With the extensive range of mortar and pestles on the market, it can be overwhelming to know which one to buy for preparing herbal medicines. Mortar and pestle sets can be made from various materials, ranging from marble to wood, and the bowl can have various depths and sizes.
The best mortar and pestle for herbal medicine is the Chef Sofi Mortar and Pestle Set. It has a wide-bottomed base, a longer pestle, and unpolished granite for making herb grinding easy. 
In this article, I'll discuss the best mortar and pestle set. I'll also provide the most durable option, and the best option for those on a budget. 
The Chef Sofi Mortar and Pestle Set is made from unpolished granite, which is ideal for grinding herbs. The friction from rubbing herbs against the textured surfaces allows you to crush herbs efficiently, making it ideal if you are pressed for time or you prepare herbal medicine regularly. 
Sale
ChefSofi Mortar and Pestle Set - 6 Inch - 2 Cup Capacity - Unpolished Heavy Granite for Enhanced Performance and Organic Appearance - Included: Anti-Scratch Protector
A kitchen must-have: Mortar and pestle set (mortero de cocina - morter and pessel - molcajete or guacamole bowl and pestel) has been used for THOUSANDS of years as THE way to crush, grind and powder herbs and dry spices. Contrary to an electric grinder or crusher, the age-old, durable, traditional manual grinding method ensures that all cooking ingredients bring out their full flavor and aroma profiles, allowing you to further control their texture and make delicious, chunk-free dishes.
Versatile tool: Take advantage of your brand new stone motar and pedestal set's various applications in the kitchen and simplify your everyday life! Use your mortor to pulverize nuts, seeds, ginger root and garlic and make homemade salad dressing, sauces and condiments, such as fresh mustard, quacamole, pesto, salsa, chutneys and more. Widely used in pharmacies and apothecaries, your molcajete set will help you powder pills, for optimal ingestion, or hide them in your stubborn pet's kibble!
Effortless use: This ChefSofi stone mocajetes motor & pedestal set was designed with your convenience in mind. Made from unpolished granite, you will waste no time fumbling or stabilizing your pestal masher, as our motar's cup interior provides the best, metate-like natural friction for swift ingredient crushing, grinding or powdering. With a 500 ml (approx. 2 Cup) capacity, this stone mortor also reduces the need for ingredient refills, affording quick food prep, in one go!
Quick cleaning & zero kitchen messes: As granite is inherently durable and heavy, this mortar will not slip on your kitchen counters, remaining still throughout the grinding process. Our pestle offers foolproof grip, gliding across the mortar's interior, without the need of excess hand motions, which would result in ingredient waste and kitchen counter messes! By investing in this stoneware set, you are gaining a timeless, multifunctional kitchen tool, which will make cooking a breeze!
Satisfaction guarantee: We want you to be absolutely elated with your moter and pestle set, which is why we are offering you a Risk-Free purchase. In the unlikely event our set fails to meet or exceed your expectations, you are welcome to return it for a hassle-free, FULL refund. Purchase Now The Best, Unpolished Marble - Granite Mortar & Pestle Set On The Market!
Pros
Wide-bottomed base: The mortar has a wide base which gives you a large surface area to work on.
Unpolished granite: The coarse surface allows you to grind herbs easily and quickly.
Slightly longer pestle: The pestle is a bit longer than other mortar and pestle sets. This reduces the risk of knocking your hand against the mortar when crushing herbs. 
Cons
The entire pestle is rough: While it's helpful for the tip of the pestle to be textured, when the part that you hold is also rough, it can create friction with your hand, and can be uncomfortable to work with.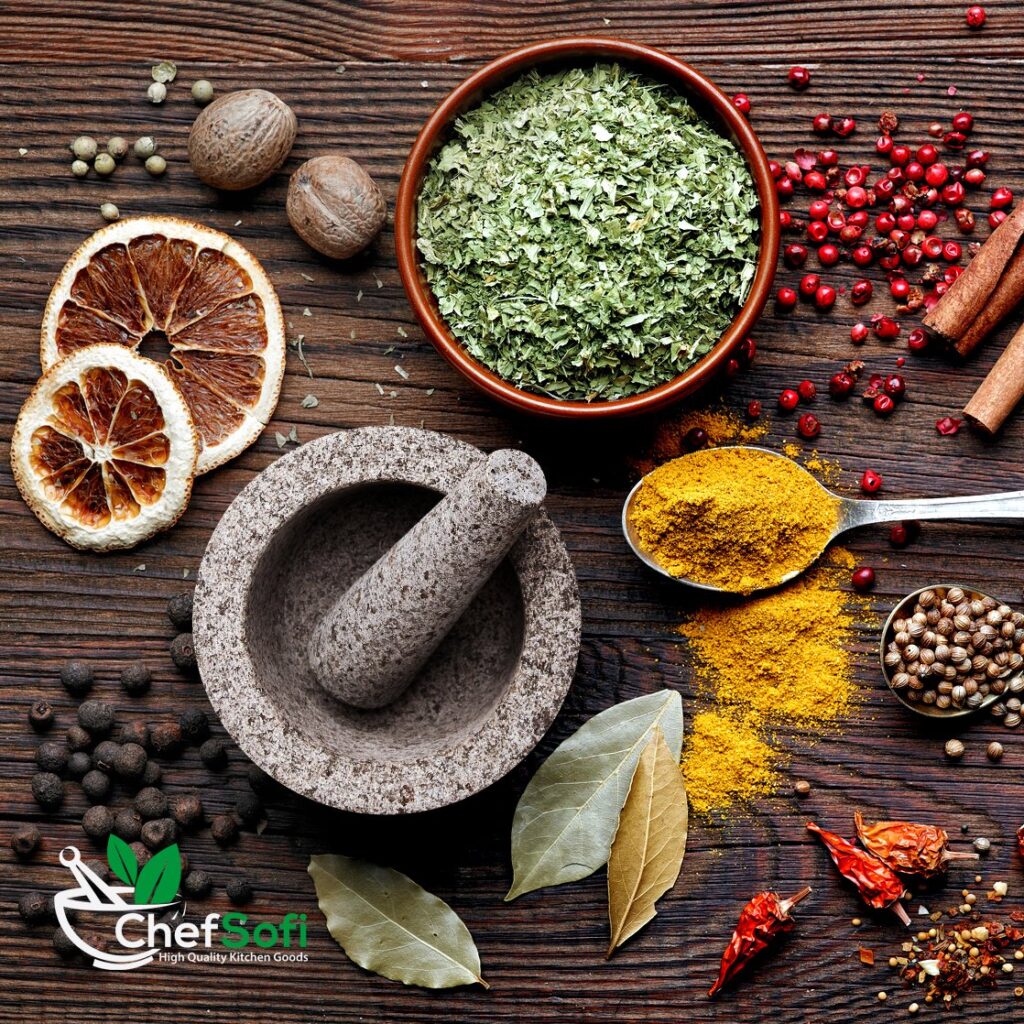 M.V. Trading's Granite Mortar and Pestle is generously-sized and is made from a single block of high-quality granite, which is virtually indestructible. It's very heavy and won't chip or crack, no matter how hard you crush your herbs. 
Aside from its ability to withstand pressure and likely last a lifetime, its striking design and charcoal color will look beautiful on any countertop. 
M.V. Trading MTP92 Stone (Granite) Mortar and Pestle, 9-Inch, 5+ Cup Capacity
Manufactured in Thailand with the highest quality. 9.25" diameter, 6.50" inner bowl, 7.25" height. 9.25" pestle
Handmade from a single block of extremely hard (Mohs Scale 7+), dark granite, 3 sizes available
Indestructible, will not chip or crack no matter how hard you pound
Excellent for bringing flavor out of seeds, nuts and spices
Beautiful appearance, a work of art to show off in your kitchen
Pros
Solid and durable: The mortar and pestle are made from high-quality granite, and are extremely heavy, making it easy to crush and grind herbs with little effort. The weight does most of the work, and there is very little risk of either part cracking. 
Textured surface: The inside of the mortar or bowl and the head of the pestle are not polished, so these surfaces are abrasive, which is ideal for herb crushing.
Large mortar: The large bowl allows you to comfortably crush or grind a generous amount of herbs without some of them flying out of the bowl as you grind them.
Cons
The pestle is very heavy. The heavy pestle may be challenging to use for prolonged periods because your arm will probably get tired, so keep this in mind if you're planning on making large batches.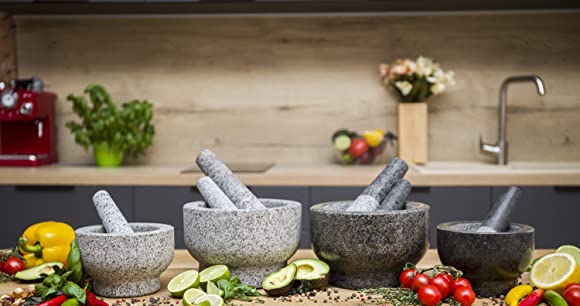 Cole & Mason 5.5-inch Granite Mortar & Pestle - Unpolished Stone Mortar & Pestle for Kitchen - Large Grinding Bowl for Herbs and Spices - Grey, 4 Pounds
Mortar & Pestle Spice Grinder: The Cole & Mason granite mortar and pestle has an unpolished mortar interior and pestle tip for effective grinding of spices and herbs
Durable Herb Grinder: Made completely of sturdy granite, this 5-inch stone mortar and pestle can withstand the pounding and grinding of herbs and spices
Non-Porous Mortar & Pestle: The granite spice grinder is non-porous so spices and oils will not be absorbed into the stone, preserving their true flavor and strength
Easy-to-Clean Mortar & Pestle: With a polished finish, this large stone grinder bowl ensures swift and convenient cleanup; simply rinse with warm water and air dry
Seasoning & Spice Tools: Cole & Mason continues to place seasoning at the heart of the kitchen
Being on a budget doesn't mean you have to compromise when it comes to choosing the perfect mortar and pestle for herbal medicine. 
This attractive, two-tone granite mortar and pestle is inexpensive but also crushes herbs well. In addition, the interior is textured, which is conducive to fast herb-crushing. 
It's also small and compact, and excellent for small spaces or storing away in a cabinet. 
Pros
Unpolished surfaces make it easy to grind. This mortar and pestle set has a clever design – the bottom interior of the mortar and the head of the pestle are not polished, which gives them a rough texture. 
Polished exterior and handle: The mortar's exterior surface is polished, making it smooth and easy to clean. The top of the pestle is also smooth so that you don't hurt your hands when gripping it.
Inexpensive. This compact mortar and pestle set is ideal for those on a budget. 
Cons
Small: The mortar is small, and it doesn't hold a lot of herbs., so it's best to be used for small batches.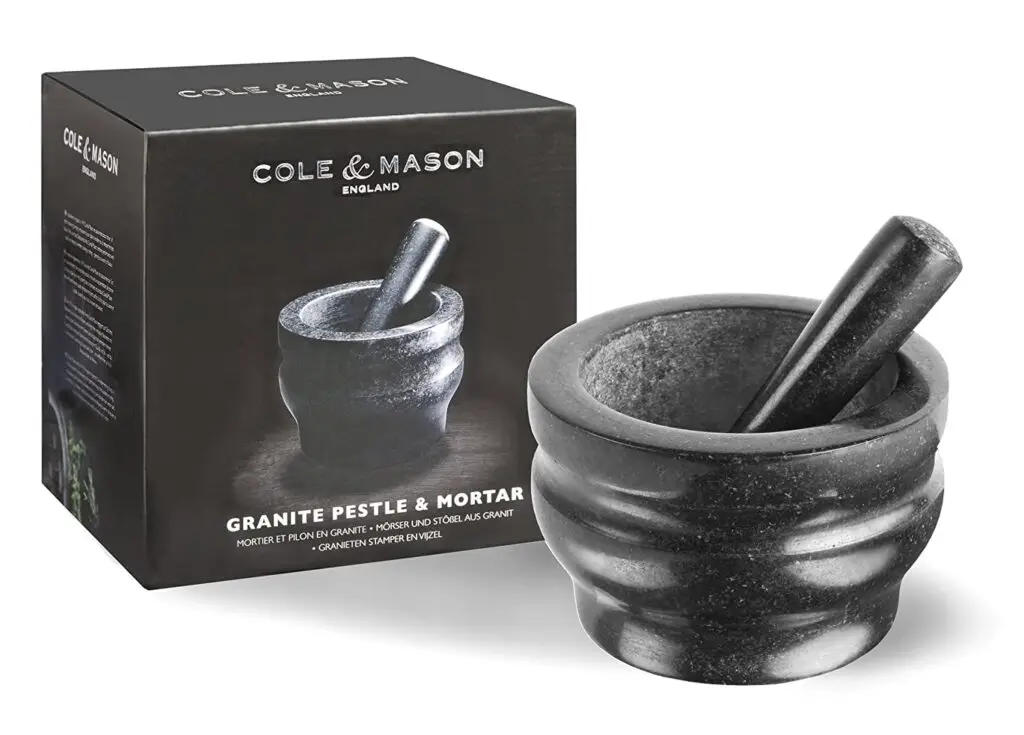 Final Thoughts
If you're looking for a mortar and pestle to make herbal medicine, choose one that is made from a solid material like granite. Also, ensure that the interior of the mortar and the head of the pestle are unpolished so that you can crush your herbs efficiently. 
Textured surfaces make it easier to grind the herbs. Other features to look for are a broad base and the upper part of the pestle to be polished so that it's more comfortable to hold. 
Sources