Call me whatever names you feel like but the thing is, I like to think of mortar and pestle as that tiny little god everyone needs in the kitchen for mashing and grinding herbs and spices. However, if you own a marble mortar and pestle, you may be wondering if it can actually crack and you may be forced to ask the below question.
Can A Marble Mortar And Pestle Crack? Well, the answer is YES. Your marble mortar and pestle can chip/crack easily when roughly handled but this usually takes a long time. So be careful how you go about grinding stuff with yours with force to prevent them from chipping/cracking.
If you notice that your marble mortar and pestle are cracked, the next best thing to do is to get a replacement. Don't even try fixing it as it may chip the more.
If your mortar and pestle come with a warranty then you can easily take it to where you bought it from for replacement. There are several stores on Amazon that do offer a 1-year warranty once you buy from them so be sure to look out for those stores should in case yours suddenly chipped.
Is Marble Good For Mortar And Pestle?
Well, the answer is capital YES. Marbles are strong, very dense with a surface with which you can easily crush things, unlike ceramic. Having such material in a mortar makes grinding spices and herbs a lot easier and quicker. So marble can make for a good M&P and the reason for this is not far fetched.
In fact, in a recent experiment conducted by Serious Eats to test for Mortar and pestle that is perfect enough for most tasks, they found Marble M&P as the winner.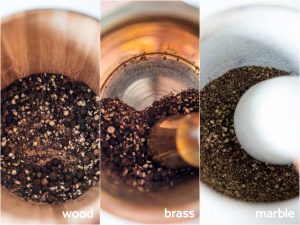 They subjected wooden, brass, and marble to a test to see which would ground black peppercorns and garlic purée quicker and later confirmed Marble as the ultimate winner. This alone should give you an idea that marble is indeed good for mortar and pestle.
Trending Today
Does A Marble Mortar And Pestle Need To Be Seasoned?
In fact, every new set of mortar and pestle needs to be seasoned. Seasoning a marble mortar and pestle ensures that a rough interior is free from grits and sand so that what you're crushing in there doesn't come out with sands or tiny particles.
How Do You Season A Marble Mortar And Pestle?
Seasoning a brand new M&P is very important and should be done the moment you purchase one. One way to know if your new mortar and pestle need seasoning or it's unseasoned is to run your palm through the interior.
Doing this would leave tiny little particles or gritty stains on your hand. Those gritty particles or whitish stains is what you need to get rid of completely so that they don't mix with whatever you're grinding in there. Continue reading to learn how you can season your marble mortar and pestle easily and quickly.
Step 1
Start by rinsing the mortar and pestle with clean flowing water. This will help get rid of some of the grits and dust from your mortar.
Step 2
Once you're done rinsing your M&P, sprinkle some salt inside the mortar.  This will help take away stubborn stains from your mortar.
Step 3
Leave the salt to remain seated in there for 10 minutes then rinse again with clean water.
Step 4
Get a mini brush, sponge, or dishrag and a mini dishwashing soap without scent. Use either the brush, sponge, or dishrag to gently scrub the inside of your M&P. This should remove those stones and stains completely.
Note: using scented soap will leave some residue on your M&P and may contaminate your food.
Step 5
After scrubbing for about a minute, rinse in clean flowing water and allow to air dry. You can dry it by placing it upside down on top of your countertop or wipe the inside with a clean cloth.
How Do You Care For A Marble Mortar And Pestle?
If you want your marble mortar and pestle to last longer and in good shape, then you should do everything it takes to care for them. Continue reading to learn how you can care for your mortar and pestle.
Ensure to wipe off any residues after using them to grind with clean clothes or with a paper towel. While at it, pay special attention to those hidden, tight corners of the mortar and ensure to give them a clean wipe. Don't forget to do the same to your pestle as well.
In case of stains from grinding colored ingredients, damp a paper towel in a solution of vinegar, baking soda or lemon juice then use it to wipe away those stains.
You can also use a mild soap on a damp cloth to clean the inside of your mortar and pestle. Just don't forget to rinse thoroughly and air dry.
You can also quicken the drying process by wiping them with a clean dish towel before air drying.
What Not To Do For Your Marble Mortar And Pestle
No matter the gravity of the stains, never soak your marble M&P with any type of acidic liquid or chemicals as this may damage your mortar and renders your warranty void.
Also, avoid using any strong abrasive such as iron sponge on your marble mortar and pestle. Instead, you can use a dry grain of rice to remove stubborn stains.
What Is The Best Marble Mortar And Pestle To Use?
There are a lot of good quality marble M&P out there you can choose from to get your job done but if you're still finding a hard time finding one, then my below picks might interest you.
1. Unique Double-Sided Mortar and Pestle Set
If you're looking for a marble m&p that is durable enough to get almost all your grinding job done, then you should consider this mortar with a double-sided pestle.
This marble mortar and pestle can help you crush and grind herbs, salts, coffee beans, spices, and of course, pills. With this mortar, you can make dishes like curry, dressings, seasonings, guacamole, etc.
2. Greenco Marble Mortar and Pestle
Here's a smaller version of marble mortar and pestle that you can use to crush and grind spices, herbs, and pills at home. This m&p has a diameter of about 3.75 inches and 2.2 inches tall.
The pestle isn't that long either. It's specially built to complement the mortar and it's just about 4 inches long. Another interesting thing about this mortar is that it can hold about 20.60unce.
3. Home Basics gr Marble Mortar and Pestle
This is another heavy-duty ergonomic mortar and pestle that is perfect enough for grinding spices, herbs, pills, and for making homemade sauces, pesto and guacamole, etc.
Can A Marble Mortar And Pestle Crack – Conclusion
Although marble mortar and pestles are made from dense, strong materials, the truth still remains that they're liable to chip, break or crack when rough handles.
Rough handling them can be from hitting the pestle hard on the mortar during grinding or crushing of spices. They can also crack if they mistakenly fell from your hand.
So, guys, that's all you need to about whether marble mortar and pestles do crack or not. If you have any more questions regarding this topic, don't hesitate to leave a comment below.