The mortar and pestle is a tool dating back to the stone age that is still used worldwide. A mortar is a thick, bowl-like utensil, typically made of wood, marble, or stone, while a pestle is a small baton, generally made of the same material as the mortar. But how do you use a mortar and pestle?
To use a mortar and pestle, place your ingredients in the mortar and pound or grind them using the pestle. Using one hand to hold the mortar and the other to handle the pestle ensures that nothing slips or falls.
How To Use a Mortar and Pestle
A mortar and pestle isn't just a fun tool but also very useful. It can do anything from crushing stuff to turning it into powder to grinding things into a paste. As such, a mortar and pestle can replace bulky and expensive food processors and other similar tools if your use for such machines is limited.
To use a mortar and pestle:
Hold the pestle with your dominant hand and the mortar with your non-dominant hand.
Gently pound the food using the pestle.
Keep doing this continuously until you get the desired result. 
There are multiple things you should bear in mind while using a mortar and pestle. These include, but aren't limited to:
Cleaning Your Mortar and Pestle
Cleaning your mortar and pestle before use is very important. To clean the tool, rinse it with water. This is done to ensure that no dust or loose particles find their way into your food, as they may get mixed up with your food and contaminate it.
Seasoning Your Mortar and Pestle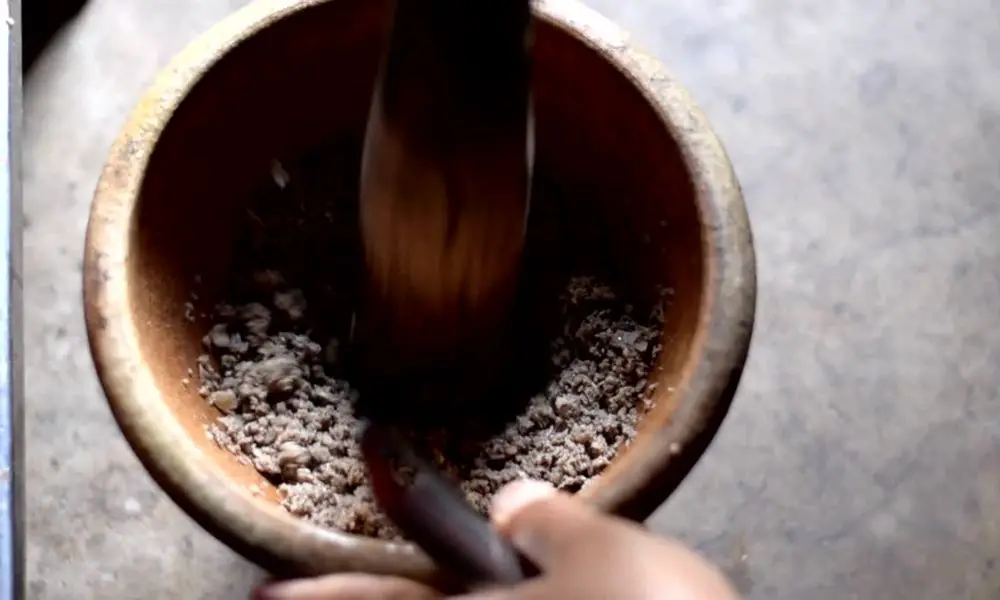 Mortar and pestles made of granite or stone need to be seasoned. Seasoning is usually done using rice or salt along with a variety of different spices. This is done by grinding the said ingredients in the mortar using the pestle after rinsing. 
The procedure helps get rid of grit and clogs the pores on the surface of the mortar and pestle, giving it a pleasant aroma of the spices used.
Using Your Mortar and Pestle
After doing all the above, air dry your mortar and pestle and let them dry completely. After this, you can go ahead to use your mortar and pestle to make pastes, dips, turn whole spices into powders, etc.
To do so:
Pick whatever you want to grind and place it in the mortar. 
Take the pestle in your dominant hand and grip the mortar using your non-dominant hand. 
Bash the pestle against the surface of the mortar until you are content with the consistency of the ingredients.
What Do You Use a Mortar and Pestle For?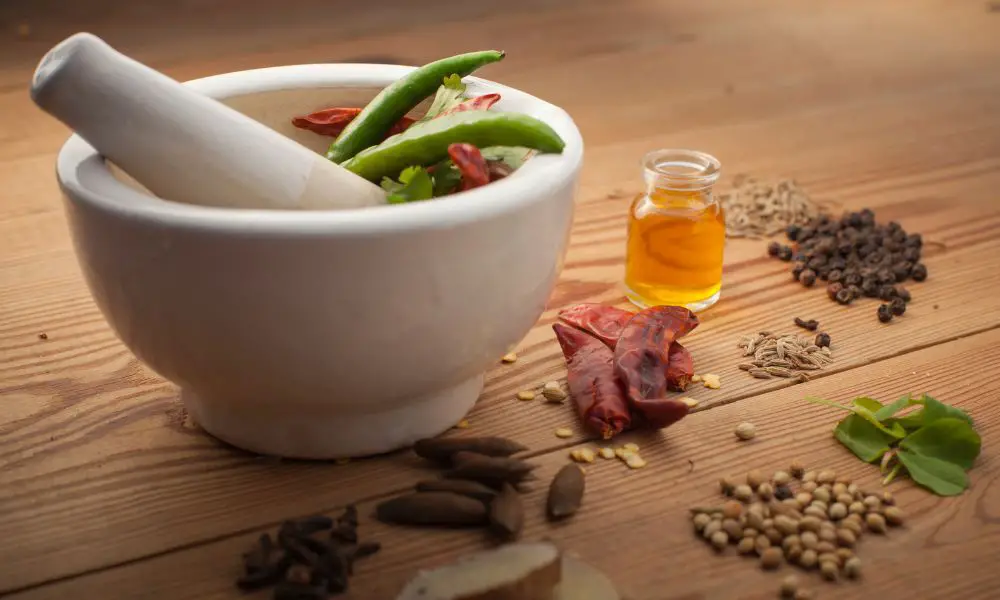 A mortar and pestle is used in kitchens and science laboratories to crush, grind, bash, and mash different things. It is compact as well as highly functional, hence making a valuable addition to your countertop.
The primary use of a mortar and pestle in a laboratory is to crush solid chunks of solid chemicals into powder form. This is generally done to either make weighing the chemical easier or hasten the solid chemical's dissolution in a liquid solvent.
In the kitchen, the mortar and pestle can find tons of uses. You can use it to:
Crush whole spices to release their oils and make them more aromatic. 
Turn herbs or other dry food materials into powder with the coarseness of your liking. 
Turn aromatics into a paste for use in your marinations, stir-fries, and much more. 
Make dips, sauces, and marinades such as salsa, chimichurri, pesto, etc.
Best Type of Mortar and Pestle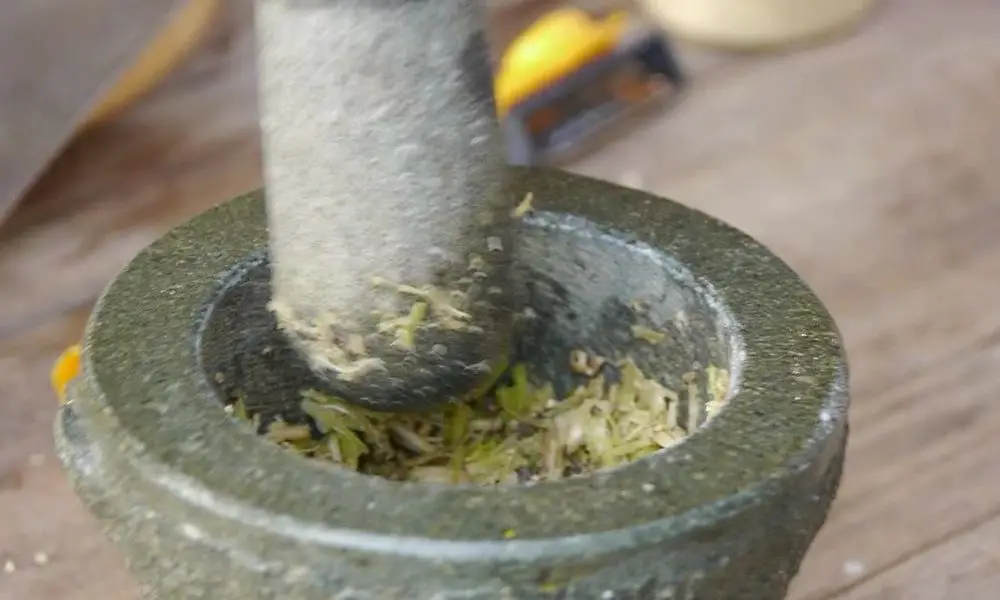 There are a plethora of different types of mortar and pestles you can choose from. Before buying a mortar and pestle, however, you need to consider everything, from shapes and sizes to material and weight.
In general, a marble or granite mortar and pestle that is neither too big nor too small is the best option for your kitchen and other daily uses. As far as the weight is concerned, it should be neither too heavy nor too light. Go for something that is neither too heavy nor too light.
ChefSofi EXTRA Large 8 Inch 5 Cup-Capacity Mortar and Pestle Set - One Huge Mortar and Two Pestels: 8.5 inch and 6.5 inch - Unpolished Heavy Granite for Enhanced Performance and Organic Appearance
🌿 EXTRA LARGE MORTAR AND PESTLE 🌿 This set of granite pieces is extraordinarily large. 5 CUPS molcajete!. Do not feel limited by the mortar capacity nor by the height of the walls anymore!
🌿 TWO PESTLES 🌿 Use the larger 8.5 inch pestle to CRUSH the tougher ingredients and the standard 6.5 inch one for the grinding and muddling action.
🌿 VERSATILE TOOL 🌿 Take advantage of your brand new stone mortar and pedestal set's various applications in the kitchen and simplify your everyday life! Use your mortor to pulverize nuts, seeds, ginger root and garlic and make homemade salad dressing, sauces and condiments, such as fresh mustard, guacamole, pesto, salsa, chutneys and more. Widely used in pharmacies and apothecaries, your molcajete set will help you powder pills, for optimal ingestion, or hide them in your stubborn pet's kibble
🌿 EFFORTLESS USE 🌿 This ChefSofi stone mocajetes motor & pedestal set was designed with your convenience in mind. Made from unpolished granite, you will waste no time fumbling or stabilizing your pestal masher, as our motar's cup interior provides the best, metate-like natural friction for swift ingredient crushing, grinding or powdering. With a 1200 ml (approx. 5 Cup) capacity, this stone mortor also reduces the need for ingredient refills, affording quick food prep, in one go!
🌿 SATISFACTION GUARANTEE 🌿 We want you to be absolutely elated with your moter and pestle set, which is why we are offering you a Risk-Free purchase. In the unlikely event our set fails to meet or exceed your expectations, you are welcome to return it for a hassle-free, FULL refund. Purchase Now The Best, Unpolished Granite Mortar & Pestle Set On The Market!
This is especially important because a mortar and pestle that's too bulky defeats one of the primary purposes of the same, i.e., ease of use. 
Since size also affects the weight of the mortar and pestle, you should also go for one that's neither too big nor too small. A huge one will be hard to handle and use, while a tiny one will not have the capacity to process enough food.
One of the most important factors to keep in mind when choosing the right kind of mortar and pestle for your kitchen is its material. From granite to marble to wood and even brass, tens of different materials are used to make mortar and pestles. 
While all these materials have their advantages, granite or marble-based mortar and pestles are typically considered the best. I will discuss the reasons for this below.
Granite Mortar and Pestles 
Granite mortar and pestles are fantastic options as they are hard and durable. They make crushing and grinding stuff easier due to their hardness and weight. They also do not have perforated surfaces. This means that tiny food particles won't get stuck on them, making them easier to clean. 
You can learn more about granite mortar and pestles here. 
Marble Mortar and Pestles 
Marble mortar and pestles have the same advantages as the ones made from granite. They are also easy to clean and highly functional due to their hard nature and heavy weight. 
One of the downsides, however, of choosing a marble mortar and pestle is that it can crack.
Conclusion
In general, holding the mortar with your non-dominant hand and the pestle with your dominant hand and pounding the ingredients in the mortar with the pestle is the way to go. 
I hope you now understand how easy it is to use a mortar and pestle and are encouraged to try it out.
Sources