When you've had traditional pesto for the first time, the flavors are so rich that it makes you wonder what sets it apart from other pestos. While much of it lies in the ingredients, the way you make pesto significantly impacts how it smells, tastes, presents and keeps.  
The key to traditional, amazing pesto is to make it in a mortar and pestle rather than contemporary methods using a food processor. The type of mortar and pestle matters, too. Buy and use a stone mortar and pestle for a genuinely fantastic pesto.  
I'll share information about why this method leads to a better pesto overall. I'll also talk about contemporary techniques to alter your recipe and change the texture and flavor. Finally, I'll share the best mortar and pestle for making a genuinely memorable pesto at home.  
How To Make Pesto in a Mortar and Pestle
Making pesto starts with the right recipe, fresh ingredients, and tools. There are too many iterations of pesto to name them all, but they have the same essential elements: olive oil, pine nuts, garlic, salt, and oregano.  
The Right Recipe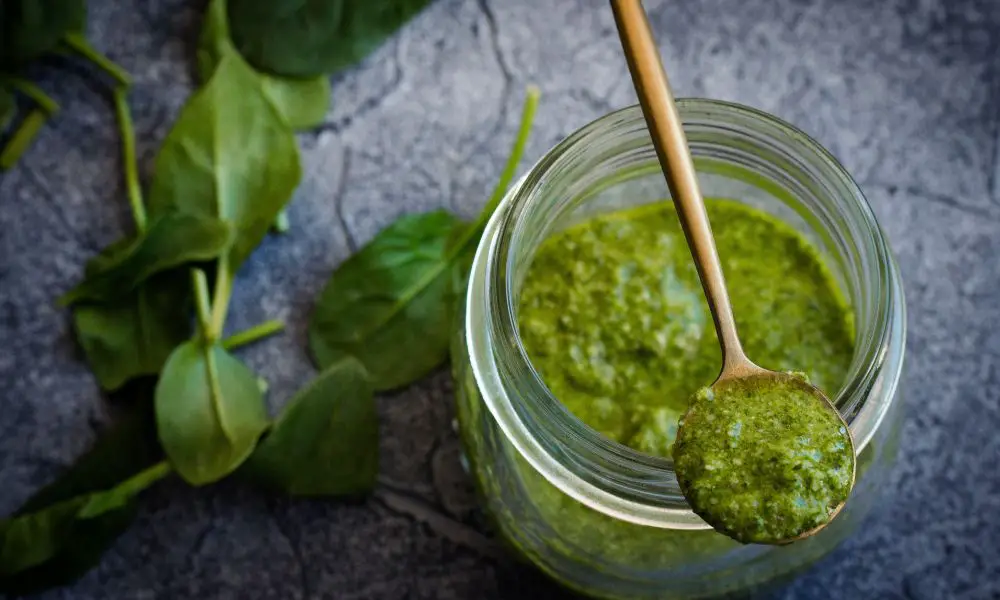 Some of you may be fortunate enough to have a handed-down pesto recipe from your family. Some of you may not be so lucky. In either case, so many different recipes are available to anyone with a few minutes and an internet connection.  
Pesto is a unique but versatile item. Sure, you will find many recipes on well-known cooking websites designed for the masses, but seek out alternate sources to find a genuinely unique recipe.  
For example, I love trying new pesto recipes from bloggers who cite the recipe as a family recipe. From here, you can play around with ingredients and tweak the recipe to fit your own taste buds and preferences.  
The Right Ingredients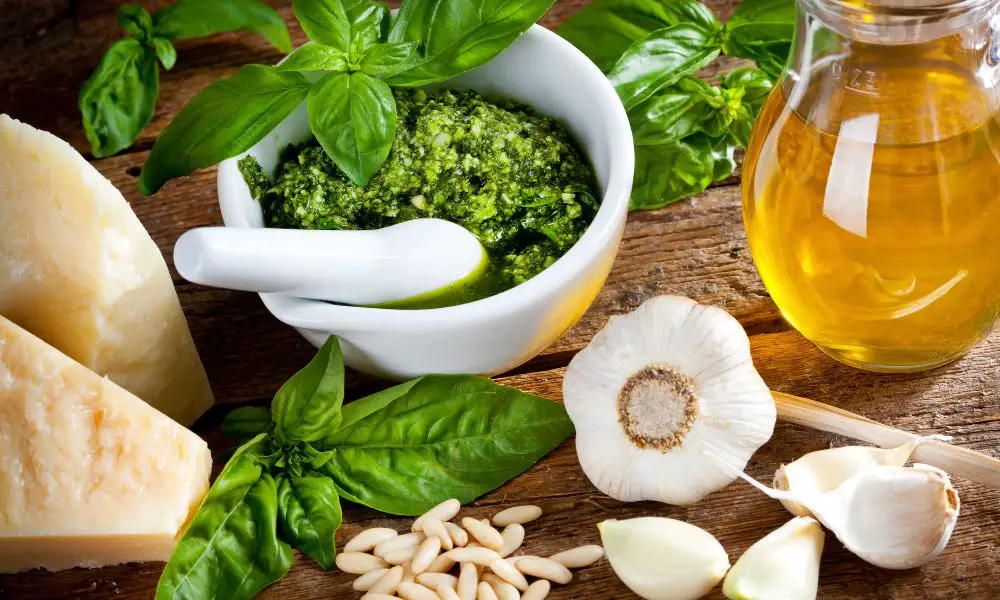 Some recipes build upon these traditional five base ingredients; olive oil, pine nuts, garlic, salt, and oregano. These five ingredients are considered the classic foundation of a genuinely fantastic pesto.  
Also critical to the recipe is that your ingredients are of the highest quality and, when possible, homegrown. If you aren't in a position to grow your own herbs, farmer's market quality herbs are another great option. Fresh herbs are necessary; preserved or dried herbs will not have the same flavor profile or texture as fresh ingredient-based pesto.   
Garlic is easy to grow at home, in a garden, or planter box. The taste of homegrown garlic can vary widely from the store-bought variety and can take on a more robust, almost spicy flavor. Oregano is also easy to grow at home or in a window planter. It, too, will often take on a deeper, richer flavor than its store-bought cousin.  
The Right Tools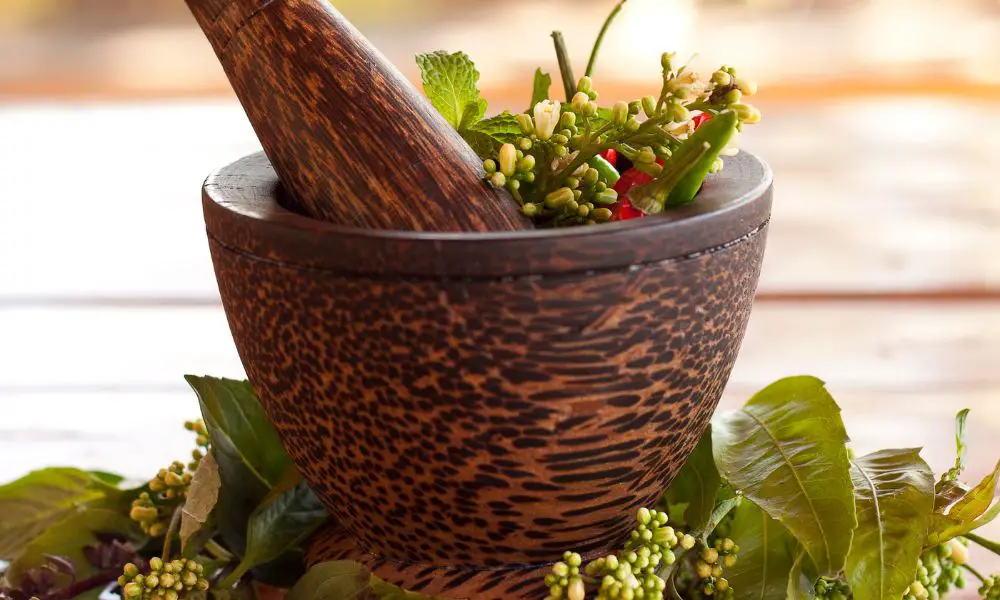 Finally, having the right tool to make the pesto is essential. I can go on for days about why every kitchen needs a mortar and pestle, despite the many time-saving tools on the market today, but if you haven't already, you can read all about those reasons here.  
While a food processor will save you time, it changes how the oils are released into the pesto and how the ingredients blend together. Food processors and blenders also generate heat, which impacts the final product.  
There are so many mortar-and-pestle options available on the market today that it can be overwhelming. This tool is used for many things, from compounding traditional herbs for medicines to cooking applications. This is the reason for so many options; the device must match the application.
Traditionally, a stone mortar and pestle are best for making pesto because of the natural roughness that helps to macerate the ingredients. The texture of the stone creates more friction to release the natural oils in the mixture without absorbing any of those oils into the tool itself.  
Best Mortar and Pestle for Making Pesto
My favorite mortar and pestle for pesto is the WALDWERK Mortar and Pestle (available on Amazon.com).  
WALDWERK Mortar and Pestle - Mortar and Pestle Set with Anti-Scratch Oak Wood Base - Mortar with Extra Large Pestle Made of Natural Granite - Large Mortar and Pestle - Ideal for Guacamole
🌿 BEAUTIFUL DESIGN - the high-quality oak wood base protects your kitchen shelf from scratches while using your mortar. Moreover, the noble oak wood combines with the natural granite to give a jewelry look in your kitchen!
🌿 BOMBPROOF STAND - the extra-wide oak wood base keeps your WALDWERK mortar securely to give you a fun-filled grinding process with no mess!
🌿 EXTRA LONG PESTLE - to make chopping as easy and comfortable as possible for you. This ensures that your hand does not collide with the edge of the mortar.
🌿 100% NATURAL - granite is one of the oldest and hardest rocks in the world. It hardly absorbs any water and is super easy to clean. It is also absolutely harmless to health!
🌿 MONEY BACK GUARANTEE - if our set fails to meet or exceed your expectations, you are free to return it within 60 days for a hassle-free full refund.
I find the combination of a stone mortar and pestle on a wood base perfect for my kitchen. The wood base prevents the mortar from scratching my counters while holding the mortar in place while I crush the herbs.
Final Thoughts
The mortar and pestle method takes much effort and patience, but the taste difference is undeniable. With the right recipe, ingredients, tools, and practice, you can make pesto from home that tastes like it came from your favorite Italian restaurant.  
Sources