Grabbing a cup of joe from your favorite coffee shop is nice, but few things beat making coffee at home. If you have to pick between the two most popular options for grinding coffee in your kitchen — the classic mortar and pestle versus the coffee grinder — which is the better choice? 
Both the mortar and pestle and coffee grinder are used to prepare coffee beans for brewing. The mortar and pestle helps grind coffee manually, while the coffee grinder does so semi-automatically. Each method produces different coffee ground textures, which affect the brew's flavor and concentration.
There's no definitive "right or wrong" option when it comes to the best tool to use for coffee grinding. However, using either a mortar and pestle or a coffee grinder has its pros and cons. Let's dive into those in this article. 
Mortar and Pestle – Is It Worth It?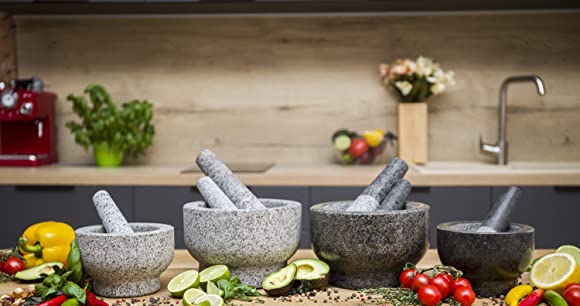 Whether you're buying a mortar and pestle set, or you already have one at home, you may be wondering if grinding coffee with this particular tool is worth all the effort (because, let's be real, using a mortar and pestle takes a lot of effort). Let's take a look at its pros and cons. 
Pros of Using Mortar and Pestle 
Sale
ChefSofi Mortar and Pestle Set - 6 Inch - 2 Cup Capacity - Unpolished Heavy Granite for Enhanced Performance and Organic Appearance - Included: Anti-Scratch Protector
A kitchen must-have: Mortar and pestle set (mortero de cocina - morter and pessel - molcajete or guacamole bowl and pestel) has been used for THOUSANDS of years as THE way to crush, grind and powder herbs and dry spices. Contrary to an electric grinder or crusher, the age-old, durable, traditional manual grinding method ensures that all cooking ingredients bring out their full flavor and aroma profiles, allowing you to further control their texture and make delicious, chunk-free dishes.
Versatile tool: Take advantage of your brand new stone motar and pedestal set's various applications in the kitchen and simplify your everyday life! Use your mortor to pulverize nuts, seeds, ginger root and garlic and make homemade salad dressing, sauces and condiments, such as fresh mustard, quacamole, pesto, salsa, chutneys and more. Widely used in pharmacies and apothecaries, your molcajete set will help you powder pills, for optimal ingestion, or hide them in your stubborn pet's kibble!
Effortless use: This ChefSofi stone mocajetes motor & pedestal set was designed with your convenience in mind. Made from unpolished granite, you will waste no time fumbling or stabilizing your pestal masher, as our motar's cup interior provides the best, metate-like natural friction for swift ingredient crushing, grinding or powdering. With a 500 ml (approx. 2 Cup) capacity, this stone mortor also reduces the need for ingredient refills, affording quick food prep, in one go!
Quick cleaning & zero kitchen messes: As granite is inherently durable and heavy, this mortar will not slip on your kitchen counters, remaining still throughout the grinding process. Our pestle offers foolproof grip, gliding across the mortar's interior, without the need of excess hand motions, which would result in ingredient waste and kitchen counter messes! By investing in this stoneware set, you are gaining a timeless, multifunctional kitchen tool, which will make cooking a breeze!
Satisfaction guarantee: We want you to be absolutely elated with your moter and pestle set, which is why we are offering you a Risk-Free purchase. In the unlikely event our set fails to meet or exceed your expectations, you are welcome to return it for a hassle-free, FULL refund. Purchase Now The Best, Unpolished Marble - Granite Mortar & Pestle Set On The Market!
Cons 
Why Coffee Grinders Are Worth it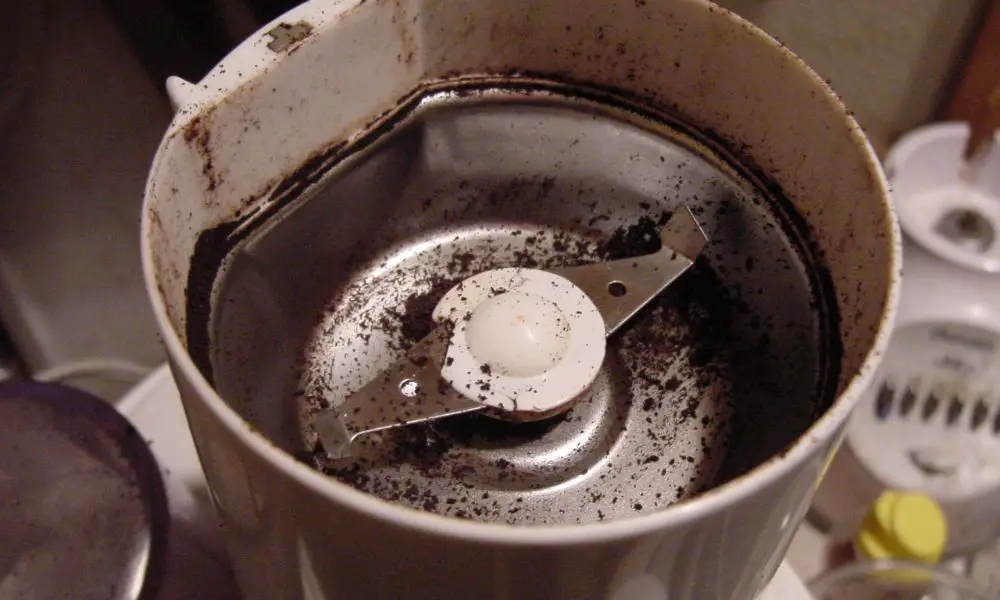 Thinking of buying a coffee grinder? I'll give you a couple of quick recommendations later, but for now, let's get into what makes coffee grinders a "go" — and what makes them a "no."
Pros of Using Coffee Grinders 
Sale
Kaffe Electric Coffee Bean Grinder w/Cleaning Brush. Easy On/Off Operation for Espresso, Cold Brew, Herbs, Spices, Nuts. (14 Cup / 3.5oz) Black
☕️ FRESH COFFEE, EVERY TIME! Grinding coffee beans immediately before use releases the coffee beans fragrant essential oils at the right moment to ensure maximum freshness and rich aroma for a full-bodied complex flavor, satisfying coffee with the most delicious taste in the comfort of your own home.
🪄 WORKS LIKE MAGIC - EASY TO USE! Transparent lid lets you monitor and control the grind coarseness by simply pressing the ON/OFF button. Saves time and effort compared to traditional hand manual coffee grinder. Through the clear lid you can observe the process and get coarse or fine coffee powder for french press, pour over, moka pot, espresso, cold brew coffee, coffee percolator or drip coffee makers.
✔️ PERFECT BALANCE: POWER AND PORTABILITY. Compact countertop coffee grinder electric with 3.5 oz capacity, high-quality 304 stainless steel blade and 150W upgraded powerful motor for better maintaining the original rich aroma and oil of the coffee bean.
⭐ MULTI-PURPOSE USE: Kaffe is not only about a perfect coffee grind. Kaffe offers the best grinders for all your kitchen needs. You can confidently use it as a spice grinder for herbs, nuts and grains. With a CLEANING BRUSH included you can easily clean your coffee bean grinder.
💰 WORRY-FREE PURCHASE: 2-YEAR MANUFACTURER'S WARRANTY! We take pride in our coffee grinders and our record speaks for itself. We promise to treat you like family! Covers any damage or defect. Money back guarantee!
Cons of Using Coffee Grinders 
If you're looking for a decent coffee grinder for beginners, I suggest the Hamilton Beach Fresh Grind Electric Coffee Grinder (available on Amazon.com). Despite its multiple moving parts, it's fairly easy to clean. You also don't have to fumble over the manual to figure out how to work it, as the controls are intuitive.  
If a manual coffee grinder is more up your alley, I recommend the PARACITY Manual Coffee Bean Grinder (available on Amazon.com). The stainless steel material ensures that the grinder will last for as long as possible. Plus, it's almost as good as a mortar and pestle. 
Conclusion
From the above, it would seem like the classic mortar and pestle has more pros than the coffee grinder does. However, the best one for you still depends on what you're looking for in your coffee grinding equipment. Of course, there's always the option to use both and see which one yields the kind of coffee you like! 
Sources: