If you are a foodie like myself, you probably know that grinding your own spices is infinitely better for the taste buds than using pre-ground herbs. That is because spices contain volatile aromatic compounds that dissipate over time, explaining why commercial pre-ground spices are nowhere nearly as flavorful as freshly-ground ones. With that said, should you use a mortar and pestle or a spice grinder to prepare your fresh spices?
The best option between a mortar and pestle and a spice grinder comes down to preference. The mortar and pestle allow you more control over the final product, while an electric spice grinder is faster. Mortars and pestles are typically cheap, while electric spice grinders are more versatile.
Read on to learn more about these two types of spice grinders so you can choose one that best suits your unique needs. Let's get started. 
Mortar and Pestle vs. Spice Grinder: An Overview
Before we get into the ins and outs of mortars & pestles versus spice grinders, it is crucial to note that both are, in fact, spice grinders. 
There are three types of spice grinders:
Mortar and pestle
Mechanical spice grinders
Electric spice grinders
For clarity purposes, I will be pitting mortars & pestles against electric spice grinders. Nevertheless, we will also take a brief look at mechanical spice grinders so you can know what they are all about.
Mortar and Pestle
The mortar and pestle have been a staple kitchen tool in numerous cultures across the world for centuries. It is said that necessity is the mother of invention, and it is undoubtedly true in the case of mortars and pestles.
It is believed that the first mortar and pestle was designed in the Stone Age to help early humans grind grains and crack nuts. Archeological findings indicate that mortars and pestles were being used in Egypt as far back as 1,500 B.C.
Granite Mortar and Pestle Set - 6 Inch Diameter 2 Cup Capacity. Unpolished Granite Stone Mortar and Pestle Large Size. Chef's Choice of Size and Finish Bringing Out Flavors and Aroma. Mortar & Pestle
Large 2 cup capacity - This Solid Granite Large Mortar and Pestle Set is 6 inches in diameter and 4 inches tall. The 2 cup capacity is excellent for combining ingredients and having room to work.
Low-Maintenance, Easy to Clean - This Pestle and mortar Set Washes Clean with Warm Water; No Soap needed. Comes with instructions detailing how to cure, clean and care for your spice and herb grinder
Resists Slipping and Tipping - Weighing 7 pounds, this Stone Grinder is big and heavy enough to not slip or tip during use. The Pestle Surface is comfortable and will not slip out of your hand.
More Aroma and Flavor - Essential Kitchen Tool for Crushing and Grinding Food Into Granules, Powder, or Paste. Size and surface finish is the Most Recommended by Top Chefs for Bringing out the True Tastes and Aroma's of your creations
100% Solid Granite - The quality of this Mortar & Pestles is the highest available and only the highest graded Granite stone is used. Great as Guacamole mortar and pestle or spice crusher bowl
The fact that the mortar and pestle's basic design, consisting of a thick, hard bowl (mortar) and a hand-held club-like tool (pestle), has withstood the test of time shows how effective that design is.
Mortars and pestles work so well because they allow you to control the ground level. You can pound your ingredients to the consistency of your liking. Moreover, mortars and pestles are excellent at crushing wet and oily spices – something that cannot be said for electric spice grinders.
The only drawback to mortars and pestles is that they require significant elbow grease and are time-consuming.
Mechanical Spice Grinders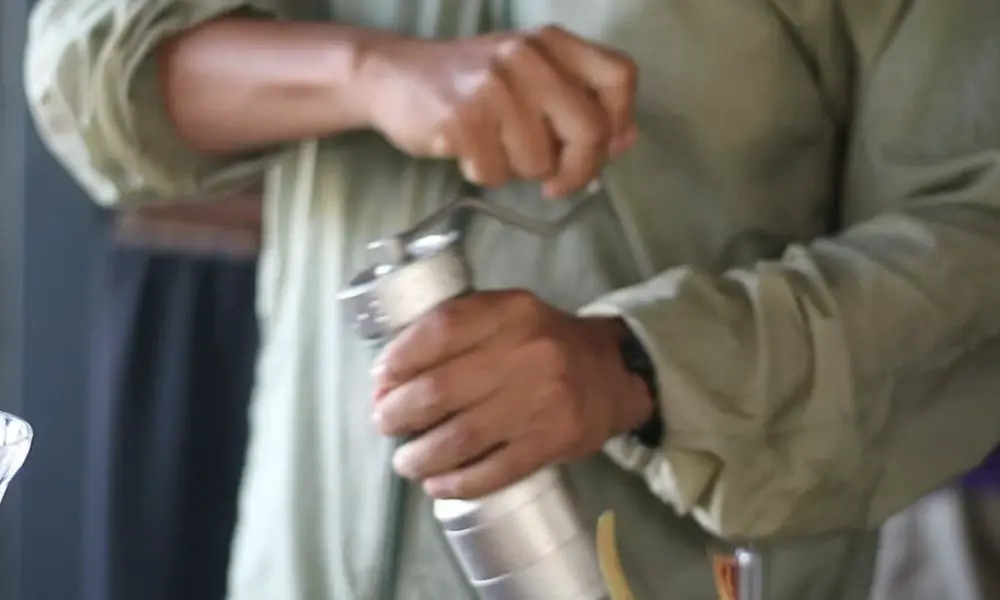 Mechanical spice grinders are not too different from those antique manual coffee grinders. Like traditional coffee grinders, mechanical spice grinders come with a handle that you rotate to grind your ingredients.
Sale
Kuhn Rikon Adjustable Ratchet Grinder with Ceramic Mechanism for Salt, Pepper and Spices, 8.5 x 2.25 inches, Black
Features a high-performance ratchet operating system and efficient ceramic grinding stone - suitable for salt, pepper and a wide variety of spices
Simply move the ratchet handle back and forth to grind - easy on the wrists and ideal for those who have difficulty with a traditional mill
Delivers a highly consistent grind - can be adjusted from fine to coarse using the dial on the base
Quick and hassle-free filling via the door on the front and contents are easily visible
Wipe clean as necessary or wash by hand (not dishwasher safe). Dimensions: 8.5 (height) x 2.25 (diameter) inches
Mechanical or manual spice grinders are an excellent alternative for people who find mortars and pestles too tiring but still need to feel they have some level of control over the grinding process.
Electric Spice Grinders
As with any modern invention, electric spice grinders are built for efficiency. These food processors are incredibly similar to electric coffee grinders. In fact, one can be used in place of the other.
Electric spice grinders come with tiny blades that cut spices into fine powder.
The benefits of electric spice grinders speak for themselves. For starters, you can pulverize your spices into powder in less than a minute. Moreover, they can handle large quantities at a time, making them excellent options for large-scale use. 
Hamilton Beach Fresh Grind Electric Coffee Grinder for Beans, Spices and More, Stainless Steel Blades, Removable Chamber, Makes up to 12 Cups, Black
EASY CLEANUP — DISHWASHER SAFE GRINDING BOWL: The grinding bowl on this coffee bean grinder is designed with durable stainless steel. It's removable for easy filling and pouring and is dishwasher safe..Frequency : 60 Hz
GRIND ENOUGH TO BREW UP TO 12 CUPS OF COFFEE: If you love the delicious taste of coffee made from freshly ground beans, this electric coffee grinder is perfect for the job whether you're grinding coffee for a quick cup or a full pot
SIMPLE & INTUITIVE: The coffee grinder is so easy to use that you'll want to drink flavorful coffee made from freshly ground coffee beans everyday. Just place the lid on the grinder and press the button to grind coffee. Release to stop grinding.
DURABLE STAINLESS STEEL BLADES: With the durable stainless steel blades, this grinder makes easy work of grinding everything from coffee beans to herbs and spices.
REDUCE CLUTTER WITH HIDDEN CORD STORAGE: Hideaway cord storage at the bottom of the grinder stores the cord neatly and out of sight when it's not in use. Quieter than the leading competitor
You also don't need to worry about getting tired when using an electric spice grinder; press the "grind" button and let the machine do its work.
However, electric spice grinders have their drawbacks. They are more expensive than a standard mortar and pestle. They are also typically more difficult to clean. Finally, most electric spice grinders have a difficult time processing wet or oily spices.
Mortar and Pestle vs. Electric Spice Grinder: Which Is Better?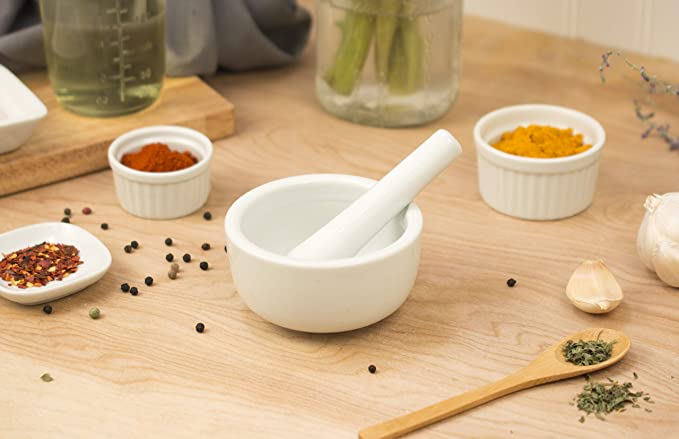 As noted above, both of these tools have their inherent pros and cons. Therefore, the choice boils down to what attributes mean more to you.
If you are someone that loves being in control of every aspect of the cooking process, you might find the mortar and pestle to be more appealing. Mortars and pestles allow you to customize the final product's texture to your liking. To some, that means everything, as the texture of your paste can significantly affect its palatability and flavor.
On the other hand, electric spice grinders do all the work for you, meaning you have to make do with the product they produce.
Mortars and pestles are also remarkably cheap compared to electric spice grinders. However, that depends on the materials used to make the tool. Nonetheless, electric spice grinders make up for their costly nature with efficiency; they use a fraction of the time required to grind spices into a pulp or powder using a mortar and pestle.
Where mortars and pestles truly shine against their competition is when it comes to grinding wet or oily spices. Electric spice grinders use blades to grind ingredients. As you can imagine, the slippery nature of wet or oily ingredients makes it hard for the blades to keep them in place.
With that said, I think electric spice grinders are the more suitable option for most people in today's fast-paced world. They are fast, budget-friendly, and produce a consistently fine grind. What's more, they are versatile, as you can use electric spice grinders to process just about anything. 
For example, you can even make nut butter using an electric spice grinder. Can the same be said for mortars and pestles? The answer is an emphatic no! Therefore, it makes more sense to have an electric spice grinder if you must choose one, as it is versatile and easier to use. 
Conclusion
Mortars and pestles have been a staple kitchen tool for millennia, and with good reason: they are great at what they do. Electric spice grinders are the modern version of mortars and pestles, meaning they can do everything the former does and more!
Therefore, from a cost-benefit standpoint, I would recommend choosing the spice grinder since it has more to offer. But, better yet, why not have both?
Sources