The last thing you want is for the taste and flavor of your spices to mix unintentionally. Having a weird cinnamon smell in your black pepper beef, for example, is sure to ruin your dish! By keeping your grinders clean and free from strong odors, you can avoid such scenarios.
You can clean a smelly grinder by washing its disassembled parts individually. The smell can be removed by rubbing the grinder with lemon slices or white rice. 
This article discusses how to rid your grinder of smells from previous use. I'll also help you determine whether washing your grinders is necessary after every use and specifically cover methods to eliminate strong odors such as cumin. So read on to know more.
Everything You Need to Know About Cleaning a Grinder
Grinders come in many forms and serve distinct purposes. Due to the differences in form, the most effective ways to clean them also differ. Additionally, the frequency of cleaning required will depend on the intensity of the spices you work with. 
How Often Should I Clean My Grinder?
Generally, you don't need to clean a grinder after every use. Many spices have antimicrobial properties and resist fungi and bacteria, so you don't have to worry too much about catching diseases through your grinder. This also means that spices have very long shelf lives. 
If you use your grinder only for one kind of spice, cleaning once every six weeks should be okay. However, if you only have one grinder at home and use several types of spices with contrasting flavors, you may have to clean it after every use. 
LEM Products 686 Grinder Cleaning Kit
Indispensable kit for keeping your grinder and accessories like new
2-1/2" diameter brush
Five small brushes
11 ounce can of food grade silicone spray
Silicone spray lubricates, repels water and provide protective coating
Not doing so may result in the smell of the last spice you've ground contaminating the dish you're about to make. 
Cleaning a Manual Grinder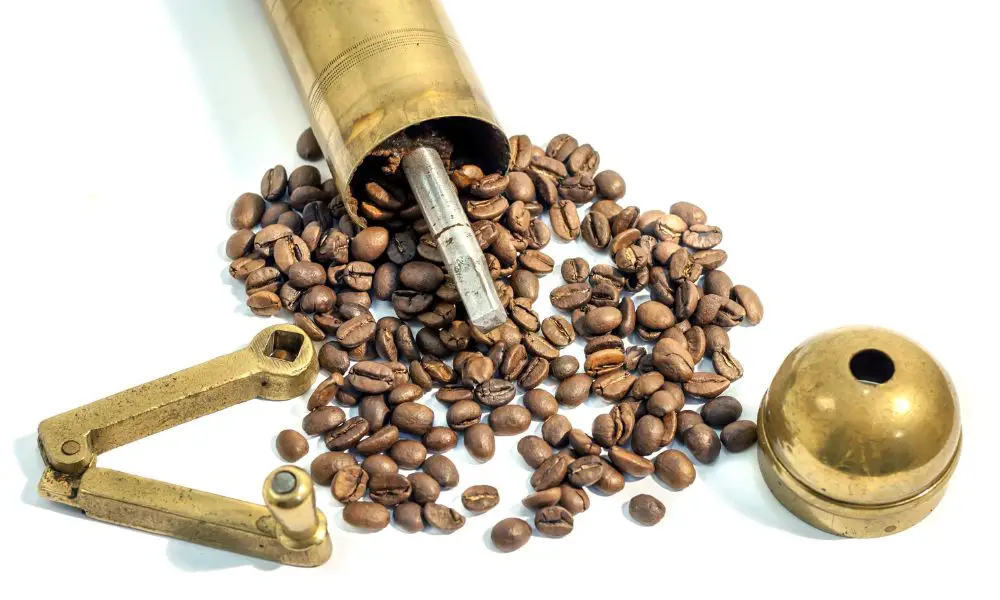 What is universal among all grinder types are the many gears within that make some areas hard to reach. Make it easier for yourself by first taking everything apart. Here are the steps to follow:
Remove any handles and bottom pieces.
Loosen the adjustment nut and remove the entire conical burr set. Now, please don't assume that you can run tap water over the disassembled parts and call it a day. It will take some effort if you want thorough cleaning. 
Begin by cleaning the metal casing of the grinder. Using a cotton bud or a toothbrush, scrub the metal casing and try to hit all the nooks and crannies. If you feel like bits are still left unscrubbed, tap the container on a clean cloth until all stains and residues are gone. 
Next, take the conical burr set apart and soak each piece in warm water. This ensures that even the stickiest residue is removed from the set. Brush it using a toothbrush and soak it again once you're done.
As the burr set soaks, take your brush and clean the handles and the lid. Run warm water over them and clean them using liquid soap. Rinse and then dry on a clean towel.
Take out the pieces of the burr set and place them on the towel alongside the handle and the lid. 
After drying, reassemble the parts. Voila, you have a freshly cleaned manual grinder!
Cleaning an Electric Grinder
With an electric grinder, disassembly won't be necessary. Here are the steps to follow:
Pop some rice in the grinder
Press the "grind" button 
Once the rice has been pulverized into a powder-like substance, you're good to go. 
The principle behind this cleaning process lies in rice being a hygroscopic material. This means it can absorb oils and moisture from your grinder. 
With the moisture gone, you can use a paper towel to wipe the grinder of any excess bits of spice.
Try to stick with this method and avoid using water to clean your electric grinder. Many complications will arise if you do so. 
When Do You Need to Clean a Grinder Between Uses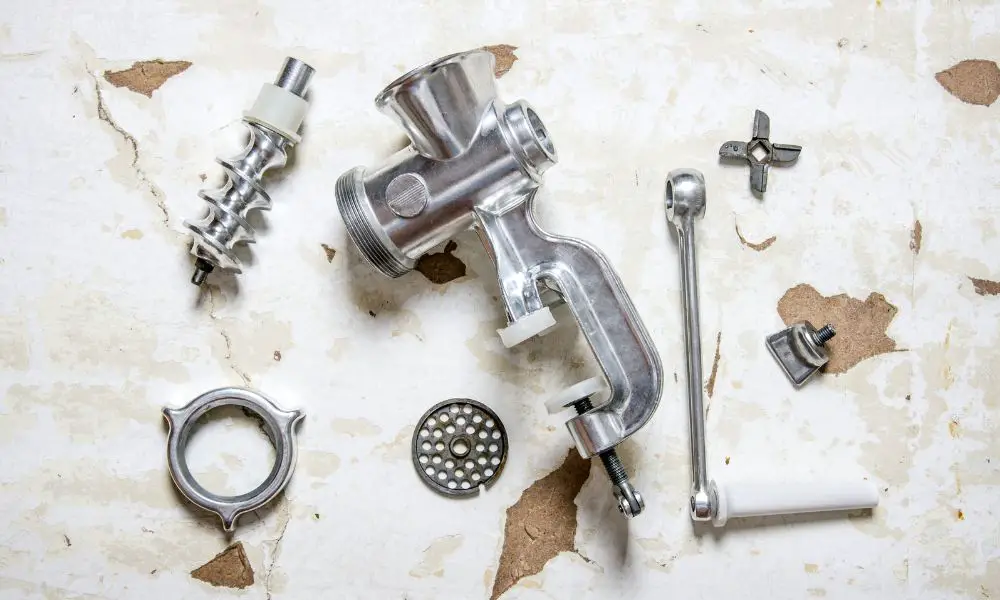 Cleaning a grinder between crushing different spices requires you to know which spices won't play well with each other. Since oregano, for example, is earthy, woody, and herbaceous, it tends to pair terribly with pungent herbs such as mustard and horseradish. So, you'll definitely want to clean your grinder when going between the two.
Getting the smell out of your grinder won't be too much of an issue if the last spice you've ground goes well with the spice you're about to grind. Use this article to see whether you need to clean your grinder after use. But if you insist on cleaning, read on. 
How Do You Get Cumin Smell Out of Your Grinder?
Some spices are a lot trickier to work with than others. This is particularly true with cumin, which has a distinct smell due to its aromatic compounds, cuminic alcohol, and cumin aldehyde.
Regular amounts of cumin aldehyde are flowery and pleasant to the nose. But too much of it can be burning and acrid, and you wouldn't want that. 
Repeat the rice method described earlier in this article if you can still sense strong traces of cumin or other spices in your grinder. You can achieve the same effect with oats as well. 
A supplementary method to this would be to wash your grinder with lemons. The steps to follow are:
Take your grinder apart 
Rub a lemon slice all over the metal casing. 
Do the same for the conical burr set, the handles, and all other components. 
Once all the parts have been cleaned, dry them for five minutes. 
Rinse and smell the parts to see if the cumin scent is still there. 
Give it another go with the same amount of lemons if it is. 
Your grinder should now be odor-free! 
This method works because the citric acid in the lemon decreases vapor-releasing compounds. Similarly, white vinegar works well in removing odors because it binds with molecules that produce odor. If you're like me, you may not like the white vinegar scent as much as lemon. 
Conclusion
You may not have to clean a grinder after every use, although you'll certainly want to after using intense ingredients that may strongly alter the taste of a dish you're planning to make. You could clean your grinder using white rice, but I recommend using lemon to remove the most stubborn odors. 
Sources