The difference between spice and coffee grinders is not visible at first. Both are similar in grinding capabilities and design but are designed for different purposes. You'll need to understand the difference between the two to get the right one for your goal.
Spice grinders and coffee grinders use different grinding techniques. A spice grinder grinds spaces with blades, and a coffee grinder grinds beans with the help of burrs to produce consistent coffee grounds. Blade coffee grinders can be used for spices, but not the other way around.
If you're curious about which grinder you should use, read further. This article will explain the difference between spice and coffee grinders and what they can and cannot do to understand better which to choose when shopping for grinders.
The Differences Between a Spice and a Coffee Grinder
The main difference between quality coffee grinders and spice grinders is the mechanics of the grinding process. When using the wrong grinder, you can potentially run into mechanical issues that will leave you with a broken grinder. Different grinder mechanics will also have different results that could alter the flavor and texture, depending on your use. 
How a Spice Grinder Works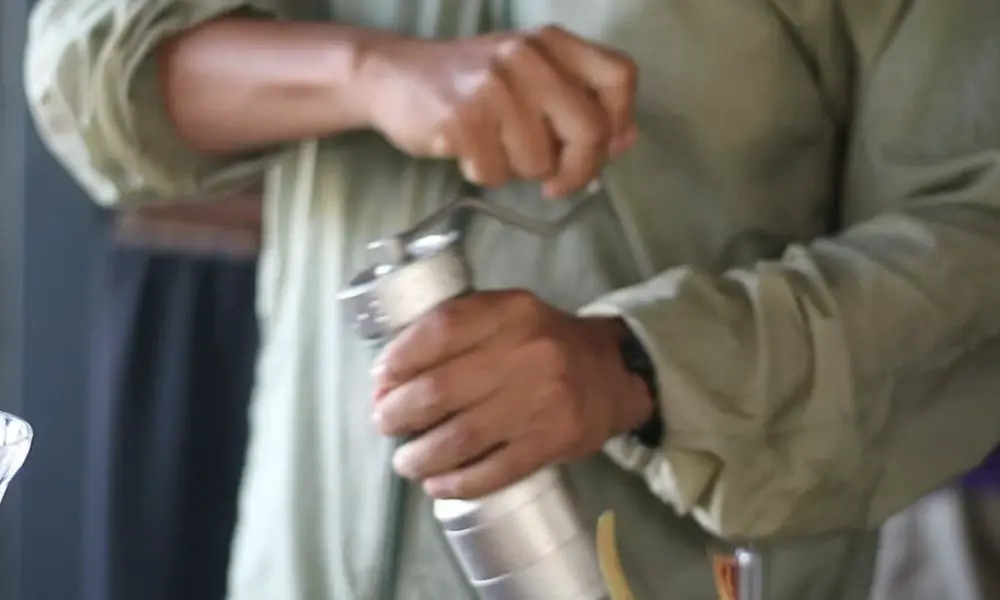 Most spice grinders (or spice mills) use blades that spin and chop whole spices into smaller bits for sprinkling into your recipes. When you open your spice bottles, you'll notice an inconsistency in the size of the spice pieces. 
You can use your spice grinder for hard or soft spices, depending on the quality spice grinder you're using. These grinders are designed to handle even blending soft and hard ingredients simultaneously.
Spice grinders come in manual and electric options and give you better control of the end result, unlike the classic mortar and pestle. They are a must-have for those who enjoy utilizing the benefits of freshly ground spices to enhance aromatic compounds.
The pros of spice grinders: 
Versatility in grinding dry spices.
Relatively inexpensive.
More consistent than mortar and pestle.
Manual and electric options are available.
The following are the cons of spice grinders compared to coffee grinders: 
Less grind size options.
Less consistency in the grind.
Our Recommended Spice Grinder
Cuisinart SG-10 Electric Spice-and-Nut Grinder, Stainless/Black, Mini
Electric spice-and-nut grinder with durable stainless-steel blades
Heavy-duty motor; push-top lid for simple on/off control
Bowl holds 90 grams; extra storage space in lid; nonslip rubber feet
Dishwasher-safe lid and bowl; instruction manual with recipes included
Product Built to North American Electrical Standards
How Coffee Grinders Work Those Beans
A good quality coffee grinder is equipped with burrs that consistently grind down coffee beans to your desired size. Anyone who grinds their coffee beans knows that the size and consistency of the coffee grounds can dramatically alter the flavor when brewed. Additionally, different size coffee grounds are needed to achieve the perfect cup from various brewing methods. 
Blade coffee grinders also work similarly to blenders and spice grinders.
Burr Coffee Grinders
Burr grinders (also called burr mills) utilize two tooth-like metal wheels (burrs) that revolve and work to grind down the coffee beans with consistency. The uniform size grounds play a crucial role in the end flavor of your coffee.
Burr coffee grinders are available in manual and electric options and are highly recommended over blade coffee grinders to achieve good results.
The following are the pros of burr coffee grinders: 
Different grind size options.
Consistent grind.
Specially designed for grinding coffee beans.
Manual and electric options are available.
The cons of burr grinders: 
Can be pricey.
Specifically designed for coffee beans.
Using the grinder for other dry foods can destroy the burr.
Our Recommended Burr Mill
CUISINART Coffee Grinder, Electric Burr One-Touch Automatic Grinder with18-Position Grind Selector, Stainless Steel, DBM-8P1
ENJOY OPTIMUM FLAVOR: Burr grinding provides a uniform grind to your fresh coffee beans with its 18-position grind selector – move the slide-dial from ultra-fine to extra-coarse to ensure your coffee grounds are exactly the way you prefer.BPA Free..UC Cubic Feet: 0.465, MC Cubic Feet: 0.558
REMOVABLE FEATURES: Our 8 oz. bean hopper is fully removable as well as our built-in grind chamber for ease-of-use and accessibility during the cleaning process, Heavy-duty motor
GRIND CHAMBER: Our removable grind chamber holds enough ground coffee for 32-cups, you won't have to worry about grinding beans multiple times to brew coffee for the entire household
ONE-TOUCH GRIND: The one-touch power bar is separate from the unit and complemented by an electric timer that automatically shuts off the unit when your grind cycle is complete
CONVENIENT DESIGN: Our heavy-duty unit motor doesn't take away space for additional design features; enjoy the convenience of cord storage and an additional scoop/cleaning brush to declutter, clean and maximize counter space
Blade Coffee Grinders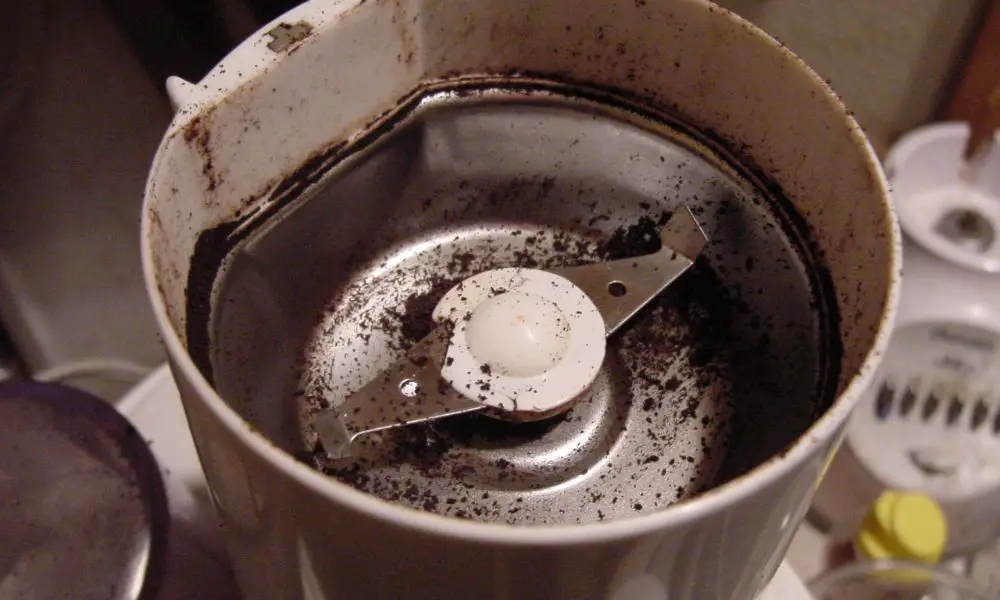 People opt for blade coffee grinders because of their affordability. These coffee grinders are more similar to blenders and spice grinders because they use blades to grind down the coffee beans. However, these coffee grinders aren't as consistent, and most lack the fine-tuning a burr grinder offers.
Many do, however, offer a pulse feature for better consistency and to achieve a finer grind. However, during the grinding process, the coffee grounds become heated from the heat of the moving metal parts. This leads to a decrease in the freshness of the grounds.
These grinders are more versatile because you can potentially use them to grind spices and dry foods, unlike burr grinders. Just be aware that using coffee grinders to grind other foods can lead to an odd flavor of coffee if not adequately cleaned. 
The following are pros of blade coffee grinders: 
Easy to use for grinding coffee.
More affordable than burr grinders.
More versatile than burr grinders when it comes to grinding other dry foods.
Manual or electric options are available.
The following are the cons of blade coffee grinders: 
They are not as consistent as burr grinders.
Less grind size options.
The blades preheat the coffee grounds, reducing freshness.
Our Recommended Blade Coffee Grinder
Hamilton Beach Fresh Grind Electric Coffee Grinder for Beans, Spices and More, Stainless Steel Blades, Removable Chamber, Makes up to 12 Cups, Black
EASY CLEANUP — DISHWASHER SAFE GRINDING BOWL: The grinding bowl on this coffee bean grinder is designed with durable stainless steel. It's removable for easy filling and pouring and is dishwasher safe..Frequency : 60 Hz
GRIND ENOUGH TO BREW UP TO 12 CUPS OF COFFEE: If you love the delicious taste of coffee made from freshly ground beans, this electric coffee grinder is perfect for the job whether you're grinding coffee for a quick cup or a full pot
SIMPLE & INTUITIVE: The coffee grinder is so easy to use that you'll want to drink flavorful coffee made from freshly ground coffee beans everyday. Just place the lid on the grinder and press the button to grind coffee. Release to stop grinding.
DURABLE STAINLESS STEEL BLADES: With the durable stainless steel blades, this grinder makes easy work of grinding everything from coffee beans to herbs and spices.
REDUCE CLUTTER WITH HIDDEN CORD STORAGE: Hideaway cord storage at the bottom of the grinder stores the cord neatly and out of sight when it's not in use. Quieter than the leading competitor
Can a Coffee Grinder Be Used for Spices?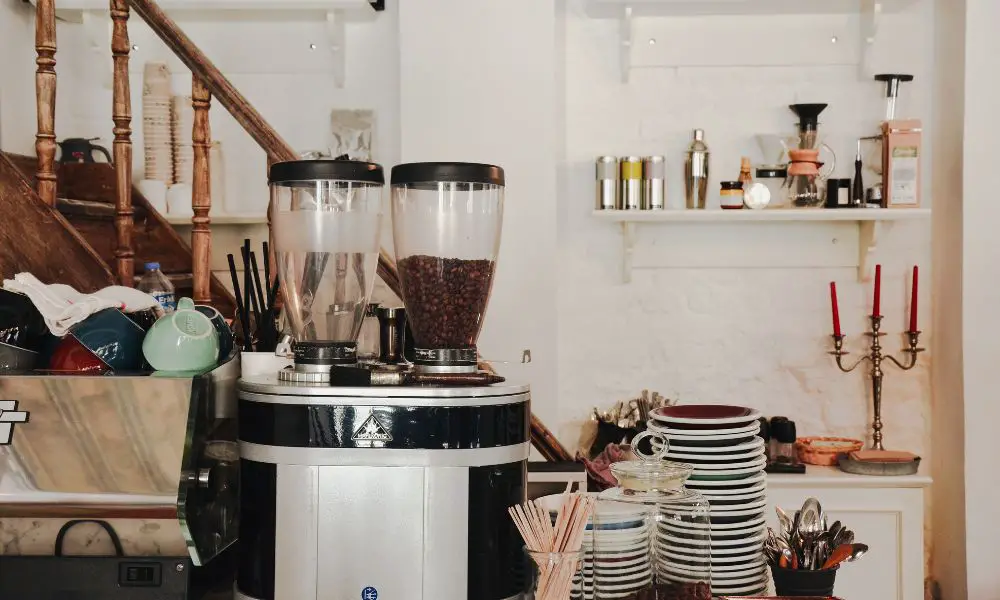 It is not recommended to use your coffee burr grinder for grinding spices. You may be able to use your coffee grinder for spices, depending on the type of coffee grinder you have. 
Burr Coffee Grinders and Spices
Burr grinders aren't designed for spices or nuts, as a spice grinder is. Also, you have to remember that the spice flavor will undoubtedly affect the taste of your coffee the next time you grind your coffee beans. 
And that would be a tragic waste of quality beans.
Also, grinding something harder and denser than coffee beans can result in problems with the inner works of your burr grinder. For example, burr grinders aren't made for grinding nuts. The nut bits can get stuck and prevent the grinder from working correctly, especially with burr grinders that aren't as easy to clean completely. 
Here are a few issues you can run into when using a burr coffee grinder for grinding something other than coffee beans: 
Clogging
Risk of ruining the grinder
Alters the coffee flavor
The difficulty of removing oils and residue left behind
So, it's best to only use burr coffee grinders for grinding coffee beans because that is what they are specifically designed for grinding.
Blade Coffee Grinders and Spices
Now, if you have a coffee grinder with blades like a spice grinder, you can use it for spices and other dry foods like grains, as mentioned in my article Can You Grind Oats In A Coffee Grinder? It also mentions what you need to know while using the coffee grinder for something other than coffee. 
One main drawback to using a coffee grinder for something other than grinding coffee beans is the possibility of flavor contamination.
Suppose it's not thoroughly cleaned afterward. In that case, you'll run into the abovementioned problem of contaminating your coffee flavor with oregano, rosemary, or any other spice or grain you choose to grind in your blade coffee grinder.
You will also risk coffee residue contaminating your spice and grain flavor as well if the grinder is not cleaned before grinding something other than coffee beans.
Will a Spice Grinder Grind Coffee Beans?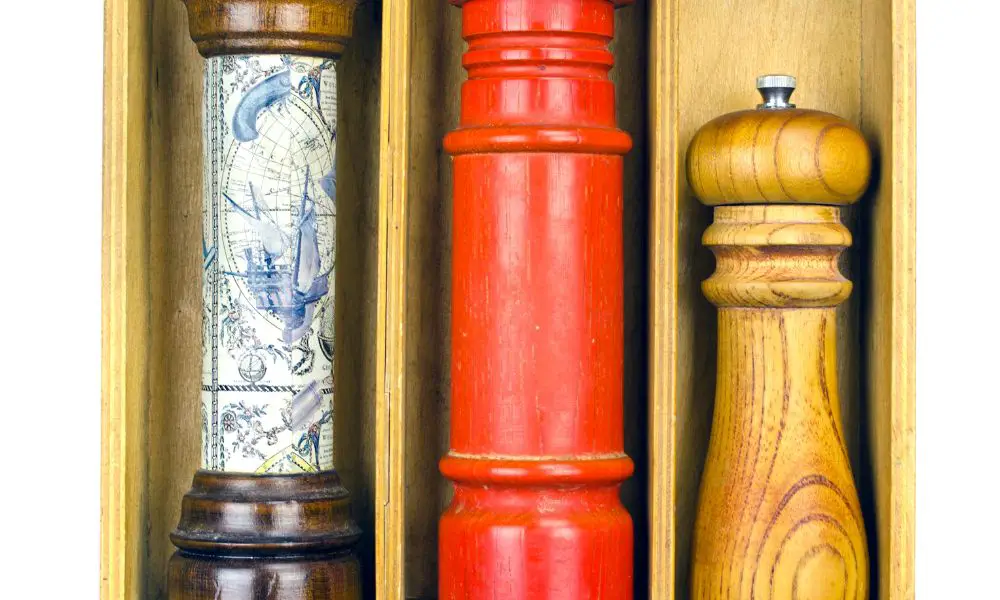 Some companies may advertise that their spice grinder can be used for coffee, but you may not be satisfied with the end result and flavor of your coffee. 
Spice grinders are not recommended when grinding coffee beans. 
Burr grinders are specially designed to produce the right size and consistency. In contrast, blade grinders (like spice grinders) will not provide the right grind size or consistency, and they also heat the grounds during the grinding process, which makes the coffee taste less fresh.
The entire process of prepping and brewing coffee comes down to a science, and any coffee brewing expert would advise against using a blade grinder to prepare your coffee beans for brewing.
Grind Size Matters With Coffee
These grinders aren't made to deliver uniform and correct size grounds when grinding the contents. So, the flavor and overall quality of your coffee will be significantly affected due to the inability to achieve specific grind sizes for the preferred brewing method. The coarse grounds that would result from using a spice grinder can leave your coffee tasting watery and acidic. 
And I'm sure you wouldn't want to start your day with a cup of coffee that leaves a terrible taste in your mouth.
Different Brew Methods Require Different Size Coffee Grounds
As mentioned, the size and consistency of the coffee grounds matter greatly when brewing coffee. This is why using a burr grinder for your coffee is highly recommended to get the full flavor effect of the coffee beans you choose. 
The following are examples of brewing methods requiring specific grind sizes: 
Cold brew: Extra coarse or rock salt-sized grounds.
Espresso: Fine or granulated sugar texture. 
French press: Coarse or the texture of sea salt.
Drip coffee: Medium or the size of beach sand particles.
Conclusion
You should obtain the right grinder for the job. If you want accurate and consistent size coffee grounds for a flavorful cup of coffee, you should choose a burr coffee grinder. If the purpose of grinding is for fresh spices and nuts, you need a spice grinder. 
It's not recommended to use burr coffee grinders for anything other than coffee beans due to the mechanics of the grinder. Blade coffee grinders can be used for spices, but ensure you thoroughly clean the grinder before and after to prevent cross-contaminating flavors.
Sources