Anyone who loves to cook knows that fresh herbs and spices, together with other quality ingredients, are key to a great dish. And when it comes to pepper, nothing beats freshly-ground using a good old mortar and pestle. However, when you don't have it in your kitchen (which you should!), is there some other way to crush those peppercorns?
A good substitute for a mortar and pestle for crushing peppercorns is using a meat mallet. By using the flat end of the mallet, you can pound peppercorns to create a freshly-ground batch. Other substitutes include an electric spice grinder and unusual alternatives like an electric blender.
Excited to discover alternative ways to get freshly-ground peppercorns? Read the rest of this article to learn more about what substitutes you can use and how to use them. Let's get crushing!
Pound The Peppercorns With a Meat Mallet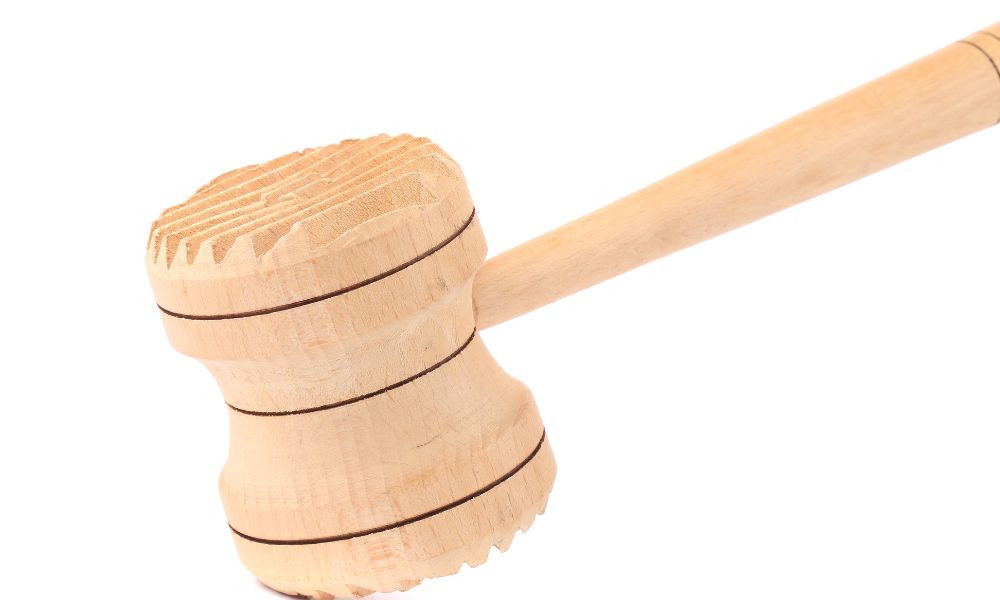 A meat mallet is something that we typically use to tenderize meats, such as when you want to have steak for dinner. But you can also use your trusty meat mallet to crush peppercorns if you don't have a mortar and pestle at home.
Take note, though, that using a meat mallet will give you coarsely ground peppercorns (not the fine pepper powder that you can achieve with a mortar and pestle). 
To crush your peppercorns with a meat mallet, here are things you will need:
Meat mallet
Coffee filter or Ziploc bag
Chopping board
To use a meat mallet to crush peppercorns, follow these steps:
Place about a tablespoon (9.17 g) of peppercorns inside the coffee filter or Ziploc bag. It's more manageable to work on a tiny batch of peppercorns, so if you need a lot, do several batches.
Fold the peppercorns in the filter or bag, making sure that there are no open sides. You don't want the pepper to fly everywhere when you start crushing.
Start pounding the peppercorns with the flat side of the meat mallet.
Check the grounds for coarseness. If you want your grounds to be finer, you can keep crushing.
Sale
Aliglow Meat Tenderizer Hammer Tool Mallet Pounder for Kitchen Tenderizing Steak Beef Poultry
ERGONOMIC DESIGN: A round head with a balanced design that allows the mallet and gravity to do all the work in less time. Easy on your hand & arm!
MORE THAN A TENDERIZER: Crush ice for cocktails, loosening frozen vegetables, crack crab, and crush garlic, Great for baking: shell nuts, and crush hard candy like toffee or peppermint
MULTIFUNCTIONAL: Easy to make delicate pork and poultry for wafer thin cutlets, schnitzel and roll ups. Use the textured side for tenderizing to create perfect, tender, juicy steaks, or use the flat smooth side for pounding filets thin, perfect for tenderizing cuts of meat.
Recommend hand wash. Zinc-Alloy hammer ,Item Dimensions: 8.9 in length*round cheek diamter 1.6 in .Unit Weight 10 ounces ,packed with bubble bag.
SATISFACTION & QUALITY :Comes with One-year warranty,[Note: If the plastic piece fall off just snap it back on. If the item you received has following issue please contact us for refund or replacement: a. the sticker is damaged/opened... b. accessories missing ,...c. the item has some scratches/surface come off or damaged..or any other defective issue.]
Use an Electric Grinder to Grind Peppercorns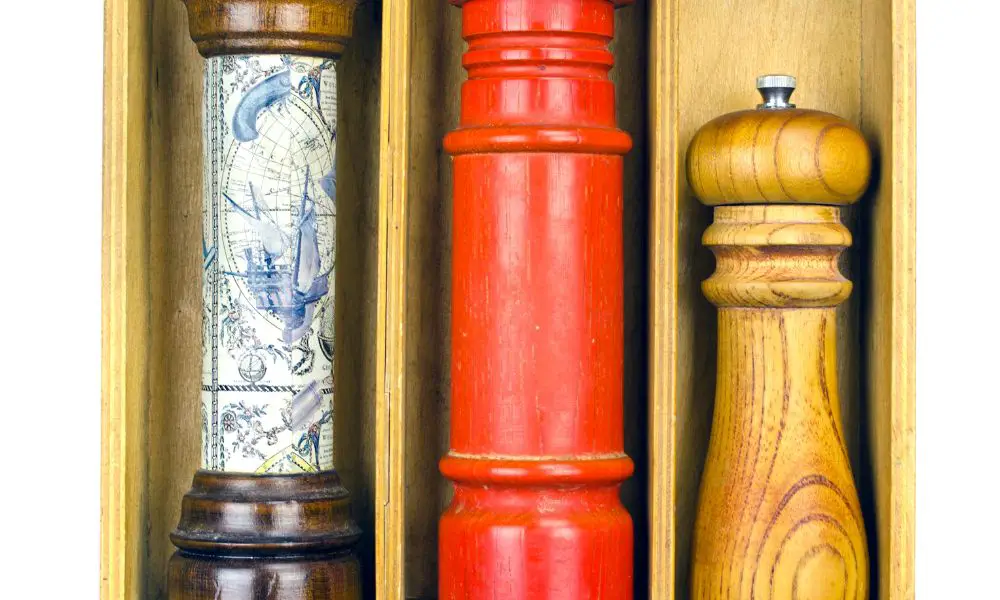 If you're a fan of fresh spices in your dishes–I mean, who isn't, right?–you need to have an electric spice grinder. This is a nifty kitchen appliance that you can use for any dry spice, like herbs and peppercorns. (If you want something for wet spices or if you intend to create a paste, you can use a mixer grinder with a wet jar instead.)
Unlike with a mortar and pestle, using an electric grinder is actually much easier and more convenient. With a push of a button, you can have finely ground pepper. 
However, if you don't have an electric grinder at home, do you know that you can also use an electric blender instead? Yep! The only drawback is that you will need to put in a lot more peppercorns (at least ¼ cup or 36.67 g) in one go to achieve a good grind.
Tectonic9 MANUAL Grinder AUTOMATIC Dispenser Large 2.5" Aluminum Alloy
MANUAL GRIND AUTO DISPENSE - Marries the reliability of MANUAL GRINDING with the convenience of AUTO DISPENSING. Would you like to enjoy perfectly ground without ever needing to twist open your grinder and be exposed to the messy process or potential spills? All those hassles are now a thing of the past with a single press of a button, which activates a powerful vibrational electric motor which evenly dispenses through the spout.
Designed for PORTABILITY - Especially suitable for outdoor environments where you might not have access to a table or tray. Use the cleverly hidden magnetic flip spout allows you to accurately position your aim, making it the perfect companion for rolling, cones and for sharing your raw material and when you travel.
VIABLE & SECURE CONTAINER- Your items are securely stashed behind a slidable dispensing gate secured by powerful magnets. Even better, your item is stored in a compartment with a beautiful LED lighted viewing window so you can easily check items quantity. The large size means the grinder holds a good supply of items.
FLUFFY GRIND - You'll get a smooth and fluffy grind every time due to 28 CNC manufactured ultra sharp diamond shaped grinding teeth. These efficiently grind your teas or others for ultra-smooth rolling. What's most impressive, however, is the even distribution. Just press the button and watch your freshly ground leaves and flowers go wherever you point the distributor nozzle. With a powerful 320mah battery, you can grind over 120 use per charge.
INCREDIBLE DURABILITY - is ensured by a wonderfully smooth space grade anodized aluminum alloy body. To make sure you never drop it, we outfitted the unit with a textured grinding grip and a sleek matt finish. Easy, one button user friendly interface dispenses your items, evenly on the paper, which makes rolling easier than ever before.
3. Try a Coffee Grinder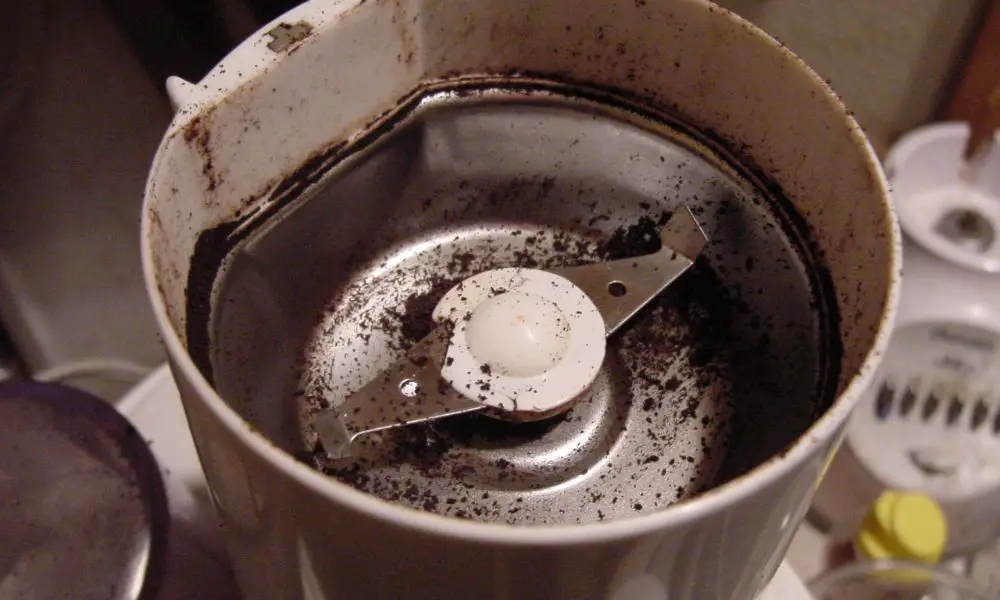 Do you love your cup of joe and prefer to grind coffee beans by yourself? Well, you can actually put your coffee grinder to use when you need freshly ground peppercorns too. But if you do use this method, make sure to wash your grinder thoroughly after use, or else your coffee might taste a little peppery.
To use a coffee grinder to crush peppercorns:
Pour your peppercorns into the grinder.
Set the grinder to the level of fineness you want your peppercorns ground.
Once you complete these steps, voila! You now have freshly ground pepper. The coffee grinder makes a great alternative to a spice grinder. And you don't need to use as many peppercorns as you would with an electric blender too.
Sale
Hamilton Beach Fresh Grind Electric Coffee Grinder for Beans, Spices and More, Stainless Steel Blades, Removable Chamber, Makes up to 12 Cups, Black
EASY CLEANUP — DISHWASHER SAFE GRINDING BOWL: The grinding bowl on this coffee bean grinder is designed with durable stainless steel. It's removable for easy filling and pouring and is dishwasher safe.
GRIND ENOUGH TO BREW UP TO 12 CUPS OF COFFEE: If you love the delicious taste of coffee made from freshly ground beans, this electric coffee grinder is perfect for the job whether you're grinding coffee for a quick cup or a full pot
SIMPLE & INTUITIVE: The coffee grinder is so easy to use that you'll want to drink flavorful coffee made from freshly ground coffee beans everyday. Just place the lid on the grinder and press the button to grind coffee. Release to stop grinding.
DURABLE STAINLESS STEEL BLADES: With the durable stainless steel blades, this grinder makes easy work of grinding everything from coffee beans to herbs and spices.
REDUCE CLUTTER WITH HIDDEN CORD STORAGE: Hideaway cord storage at the bottom of the grinder stores the cord neatly and out of sight when it's not in use. Quieter than the leading competitor
However, unlike when you use a spice grinder, a coffee grinder won't be able to produce very fine pepper powder, even if you set the fineness to the maximum setting. 
Final Thoughts
A mortar and pestle is the best way to crush peppercorns. Nevertheless, if you don't have one in your kitchen, you can get creative and use other items that are available to you. However, unlike crushing with a mortar and pestle, expect the results to be a bit messier and to take a little more work. 
Sources