Comparing a mortar and pestle with a blender is like comparing apples and oranges. Even though they can be used for the same purposes, the two tools are fundamentally different. The first is as ancient as time, and the second is a relatively recent boon from the technological revolution. 
A mortar and pestle set is better for you when crushing spices, whereas a blender is more suitable for making smoothies. A mortar and pestle is a set of tools used to grind and crush ingredients, and a blender is an electric machine with spinning blades used to mix and pureé ingredients. 
This article compares a mortar and pestle with a blender to determine which one is better for you. By the end of this post, you may find reasons to get both of them. There are certain things that a mortar and pestle are better at than a blender, and vice versa. 
Mortar and Pestle vs. Blender: Pros and Cons
As mentioned, this comparison is apples and oranges, as these kitchen tools are designed for different tasks. Nonetheless, there are some pros and cons of both to consider when deciding which is best:
Mortar and Pestle Pros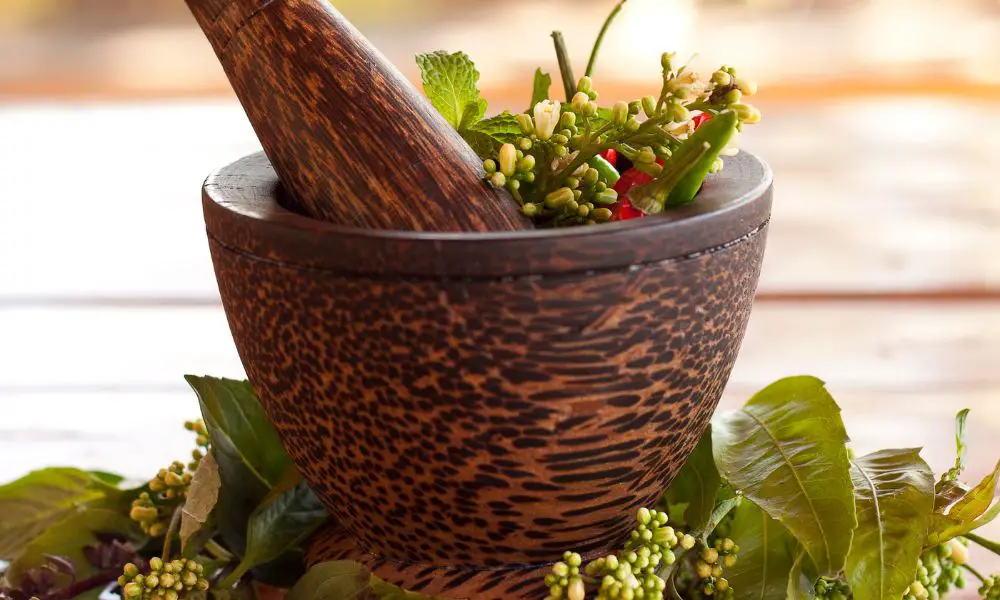 Cheap and durable; one can last for generations
Allows you to preserve the natural moisture and aroma of things you grind
Gives you more control over how you want to grind ingredients 
Requires little storage place and maintenance
Allows you to have complete control over how fine you want to crush the ingredients 
Mortar and Pestle Cons
It's manual and can be tiring 
It takes more time to grind things 
Not suited for grinding very large quantities 
Needs to be cleaned very well from residue
Sale
Tera Mortar and Pestle Set Natural Marble Grinder Spice Herb Grinder Pill Crusher Large Size 5.5in
Natural marble: The mortar and pestle set are made of marble. The long pestle can be gripped more effectively to minimize energy loss. Product size is 5.5in x 2.83in x 2.7in.
Unique existence: Due to the change of the natural color of marble, each mortar and pestle is unique, (please allow a slight difference in the color ). The polished surface of the marble crusher on the outer wall is smooth and beautiful, used to decorate the kitchen The counter is a very good choice.The mortar and pestle are hand-grinded and polished, please allow dimensional errors.
Easy to Clean: Just rinse the pestle and mortar with sponge thoroughly in warm water, and it doesn't leave any odor behind. please wash before the first use to remove the powder on the surface.
Multi-purpose: This marble mortar is very strong,and it can be easily finished by grinding dry or wet ingredients. Mortar and pestle set can be used to make homemade guacamole, pesto, salsa, and can easily mash garlic, pepper, ginger, nuts, herbs or spices, etc.
The product contains: 1x mortar, 1x pestle. If you have any questions during the purchase process or find that the product is injured or lost, please feel free to contact us, we will provide you with satisfactory answers and after-sales treatment.
Blender Pros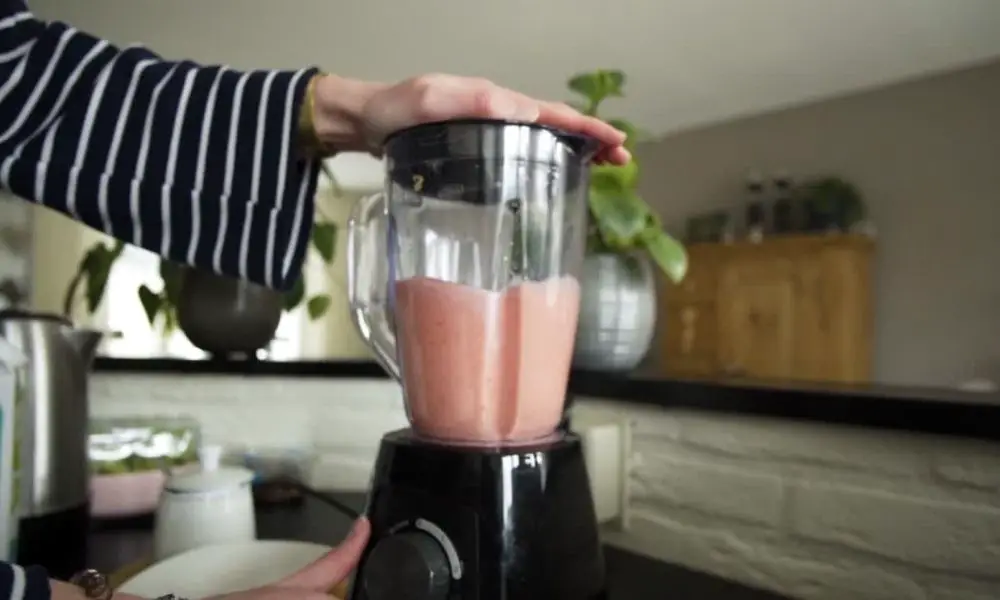 It's fast and efficient
It's used for many things, not just grinding 
Comes with different gadgets for various uses
Can easily grind and crush large quantities 
Blender Cons
Too noisy sometimes 
Not suitable for ingredients that need fine grinding or lose their aroma easily 
Fast blades can heat the ingredients
Needs maintenance from time to time
Vitamix Explorian Blender, Professional-Grade, 64 oz. Low-Profile Container, Black - 65542 (Renewed Premium)
Variable Speed Control: Ten variable speeds allow you to refine every texture with culinary precision, from the smoothest purées to the heartiest soups
Pulse Feature: Layer coarse chops over smooth purées for heartier recipes, such as chunky salsas or thick vegetable soups
Low-Profile 64-ounce Container: Perfect for family meals and entertaining, while fitting comfortably under most kitchen cabinets
Hardened Stainless-Steel Blades: Our aircraft-grade stainless steel blades are designed to handle the toughest ingredients, so from the first blend to the last, you get the same quality results
Self-Cleaning: With a drop of dish soap and warm water, your Vitamix machine can clean itself in 30 to 60 seconds.
When To Use Mortar and Pestle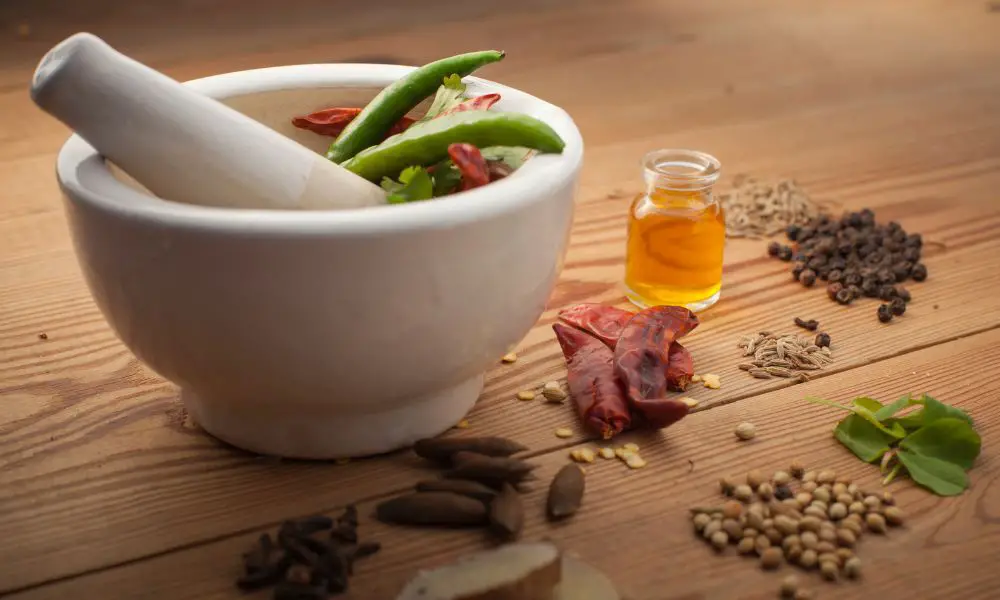 Mortar and pestle are often used by chefs and people who like to preserve the natural aroma of the ingredients. With a blender, the speed causes the ingredients to heat up, which is undesirable if you're a meticulous chef. Heating some ingredients can completely transform them. 
Mortar and pestle also allow you to control how you want to crush or grind your ingredients. Sometimes, you just need to crush the ingredients very little. Other times, you need to grind them into a super-fine powder. 
With a blender, you have little control over how you use it because the blade does everything automatically, and you just have to abide by what you get. 
Also, a mortar and pestle set is an excellent tool to have in the house. It dates back to the stone age when the most advanced technology in the world was a simple wheel or a needle, and it's still as effective today at doing its job. 
When To Use a Blender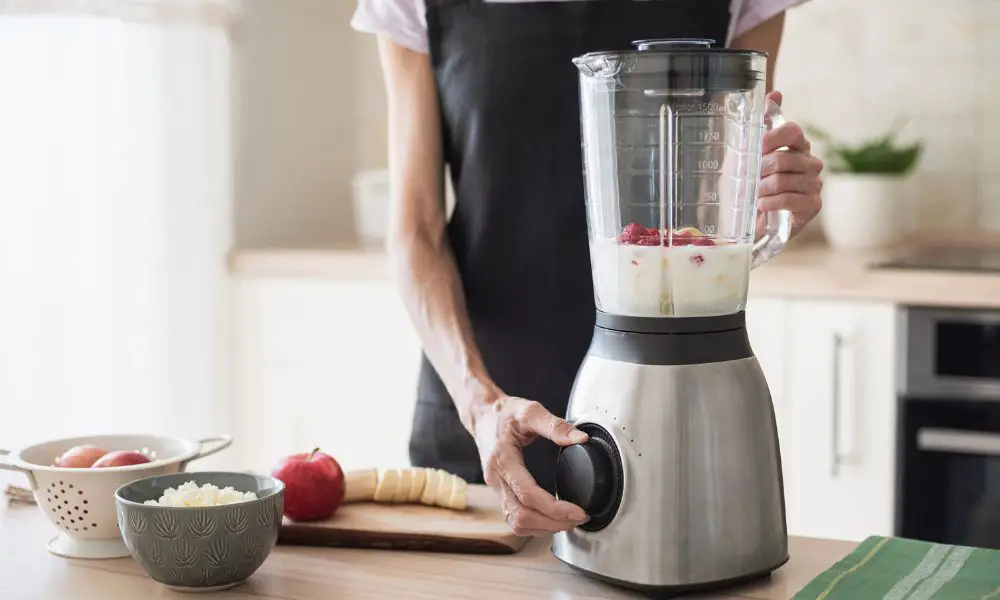 Every house should have at least one blender. At my home, we have two, just in case one fails. I really don't want to go to the kitchen one day to make a smoothie or a protein shake and have my blender fail midway. 
You can pretty much use a blender for anything you want. For me, a blender's primary purpose is to make smoothies, protein shakes, and sauces. You can also use a blender to crush spices and whatnot, but that's not my thing. Personally, I prefer to use mortar and pestle for that task. 
Is It Better To Use Mortar and Pestle?
It is better to use a mortar and pestle when you want to avoid heating the ingredients. Many chefs like to use mortar and pestle over a blender for this reason, as this allows them to preserve the moisture and natural aroma of the ingredients. 
I also think using mortar and pestle is good for the mind. (This is an argument you likely didn't see coming!) I prefer to use mortar and pestle as often as possible specifically because it's manual and takes time and effort to prepare ingredients with it. 
It puts my mind into a ZEN state of mind, which I consider very therapeutic. I'm an anxious person by nature. So, anything that helps me get away from my mind and be aware of my body and surroundings is good for me. 
Can You Use a Food Processor Instead of a Mortar and Pestle?
A food processor, just like a blender, is a super powerful electronic machine that can be used to replace everything a mortar and pestle does. Still, that doesn't mean it will do better than a mortar and pestle. 
You can use a food processor instead of a mortar and pestle. If you want to save time or grind/crush large amounts of ingredients that would take forever with a mortar and pestle and you're in a hurry, then using a food processor or a blender is the better option. 
Sale
Ninja BN601 Professional Plus Food Processor, 1000 Peak Watts, 4 Functions for Chopping, Slicing, Purees & Dough with 9-Cup Processor Bowl, 3 Blades, Food Chute & Pusher, Silver
MOST POWERFUL KITCHEN FOOD PROCESSOR: The 1000-peak-watt motor can process the toughest ingredients with ease. (under 11-cups, based on rated wattage and listed bowl capacity).
PRROFESSIONAL PERFORMANCE: Dedicated blades and discs deliver restaurant-worthy results. Precisely chop, consistently slice, and evenly mix all in one appliance.
4 VERSATILE FUNCTIONS: 4 Auto-iQ intelligent preset programs make food prep easier with 3 speeds – low, high, and pulse. Chop veggies, shred cheese, and make smooth sauces and quick pizza dough or cookie dough from scratch—all at the touch of a button.
XL PROCESSING CAPACITY: The 9-cup (72-oz.) processing bowl delivers consistent results whether you're chopping a small batch (a few garlic cloves) or an entire bowlful of ingredients—great for large families and entertaining guests.
MIX DOUGH IN SECONDS: Powerful dough mixer has the torque to fold in ingredients quickly and evenly, making up to 2 lbs. of dough in as little as 30 seconds.
By the way, here's how you can make nut butter with a food processor. 
Is the Blender Good for Grinding?
A blender is good for grinding anything you want; it's especially good at wet grinding. With its powerful motor, a blender can grind almost any edible ingredient with the click of a button. The blender is the go-to tool when you want to mix and grind wet ingredients.  
Conclusion
So, there you have it. It's not really about a mortar and pestle vs. a blender and which one will win the battle; it's more like when to use one instead of the other. 
A blender can save you a lot of time and energy. Still, it can make your spices and other ingredients lose some desirable qualities. And you can't use a mortar and pestle to make a smoothie. 
You may want to get both of them and experiment with how and when to use each. 
Sources