If you're the type of person who puts their kitchen to good use, you know that sometimes a trusty knife and cutting board won't do the trick. When you need something to grind spices or blend sauces, is a food processor or a mortar and pestle the better choice?
While mortars and pestles have been helping people in the kitchen since ancient times, food processors are a modern development in the cooking world. A mortar and pestle is a manual tool that requires little more than some elbow grease to blend ingredients, while a food processor uses electricity.
When deciding between a mortar and pestle and a food processor, there are many factors to consider. Use this simple guide to make the decision easy.
What Is the Difference Between a Mortar and Pestle and a Food Processor?
These two kitchen gadgets have similar applications, but their construction and usability differ. A food processor consists of a plastic bowl with sharp metal blades and an internal motor that runs from a cord plugged into an outlet. On the other hand, mortar and pestles are made from stone, ceramic, metal, or wood. They work by using the pestle to grind the contents of the mortar manually. 
Here are some positive and negative factors to consider when deciding between the two:
Mortar and Pestle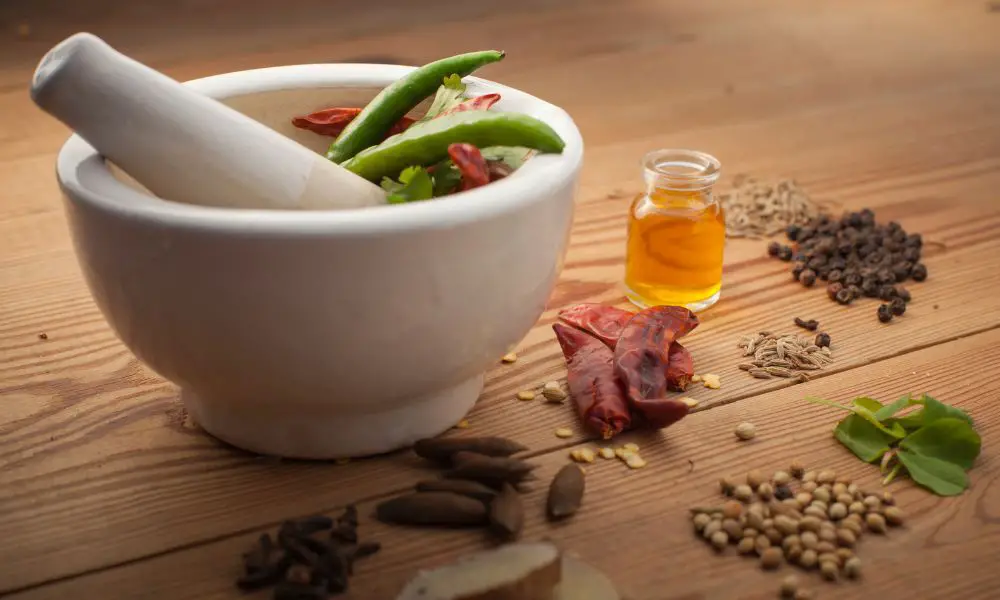 Pros
They are less expensive, with the average 2022 cost ranging from $20 to $100.
Because they use manual movements rather than electricity, they won't hike up your electric bill.
Their ancient, rudimentary design has stood the test of time, so a mortar and pestle will undoubtedly last a long time in your kitchen. 
Using a mortar and pestle draws out your ingredients' natural oils, which might result in better-tasting dishes.
They come in multiple styles and sizes that are easy to store in a cabinet or leave out on your countertop.
Cons
The lack of a motor or blades means you'll have to use some elbow grease to blend ingredients. 
The process of grinding or mixing is slower than with an electric food processor.
They have one mode (manual), which means you can't change the setting for different foods or desired consistencies. 
Our Recommended Mortar and Pestle
Sale
Gorilla Grip 100% Granite Slip Resistant Mortar and Pestle Set, Stone Guacamole Spice Grinder Bowls, Large Molcajete for Mexican Salsa Avocado Taco Mix Bowl, Kitchen Cooking Accessories, 1.5 Cup, Gray
BUILT GORILLA GRIP TOUGH: the last mortar and pestle you will ever buy, the Gorilla Grip Mortar and Pestle is ultra durable and built tough; featuring a heavy duty grinding pestle that crushes and mashes ingredients effortlessly, the mortar and pestle is ultra durable, and scratch resistant; its heavy base helps keep it in place and resist slipping and sliding, even while crushing the heaviest of ingredients
100 PERCENT NATURAL GRANITE: Gorilla Grip granite is sourced from natural granite mines, then handcrafted with care; granite is cut, shaped and polished into the mortar and pestle; natural granite has been used for generations due to its natural durability and long lasting use; no more heavy mixers or food processors, this granite mortar and pestle takes the effort out of food prep while also helps release the natural flavors of the ingredients
GUACAMOLE, SPICES, NUTS, AND MORE: not just for guacamole, the mortar and pestle is a great option for nearly any ingredient; crush up spices and herbs; create homemade pesto by grinding up nuts and seeds; serve up fresh dips; even a great choice for homemade dressings and salsas; impress your entire guest list with the tastiest dishes ever
NON SCRATCH BOTTOM: even though the mortar and pestle is heavy duty, it resists scratching countertops and surfaces; it features an optional foam bottom underside that helps protect surfaces, while also helping to prevent slipping and sliding while you prep
LARGE CAPACITY MORTAR AND PESTLE IS A PERFECT GIFT: mortar and pestle comes in 3 sizes; large size measures 5.2" x 3.2", weighs 3.9lbs, and holds up to 1.5 cups of ingredients; a perfect year round gift for anyone who enjoys cooking; beautifully designed so that it can be displayed on any countertop and add to the décor of the kitchen
Food Processor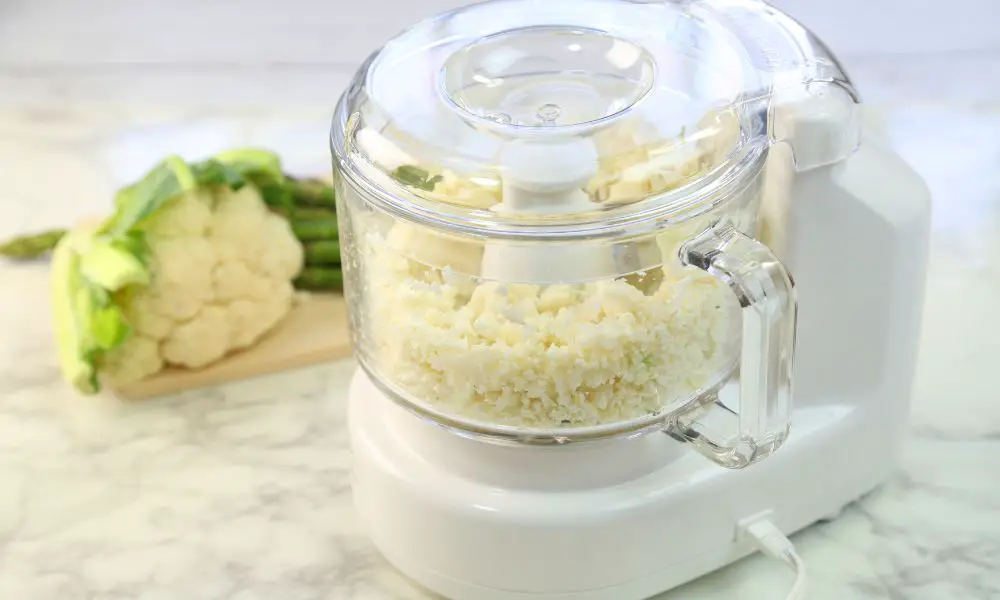 Pros
An electrical motor ensures your ingredients are ground or blended with quick efficiency.
They offer multiple speeds and settings, from shredding to pureeing and everything in between. 
They are automatic and work with the push of a button, saving you time and sore arms.
Cons
Food processors vary significantly in price and quality, with cheap, flimsy models costing $60 or less and more top-of-the-line options running customers $300 or more, as of 2022.
They run on electricity, which can result in higher electric bills if you use them often. 
They may be prone to overheating with excessive use. 
They are challenging to clean and may cause cuts if you're not careful when washing the extra-sharp blades.
Although smaller models are available, food processors tend to be bulky and difficult to store in small kitchens. 
The best option depends greatly upon what you intend to use it for, how much space you have available for storage, and your price range. Those who make large batches of soups or sauces and enjoy quick cooking may prefer a food processor, while people that enjoy harnessing the natural flavors of the ingredients they intend to blend might want a mortar and pestle. 
Our Recommended Food Processor
Sale
Ninja BN601 Professional Plus Food Processor, 1000 Peak Watts, 4 Functions for Chopping, Slicing, Purees & Dough with 9-Cup Processor Bowl, 3 Blades, Food Chute & Pusher, Silver
MOST POWERFUL KITCHEN FOOD PROCESSOR: The 1000-peak-watt motor can process the toughest ingredients with ease. (under 11-cups, based on rated wattage and listed bowl capacity).
PRROFESSIONAL PERFORMANCE: Dedicated blades and discs deliver restaurant-worthy results. Precisely chop, consistently slice, and evenly mix all in one appliance.
4 VERSATILE FUNCTIONS: 4 Auto-iQ intelligent preset programs make food prep easier with 3 speeds – low, high, and pulse. Chop veggies, shred cheese, and make smooth sauces and quick pizza dough or cookie dough from scratch—all at the touch of a button.
XL PROCESSING CAPACITY: The 9-cup (72-oz.) processing bowl delivers consistent results whether you're chopping a small batch (a few garlic cloves) or an entire bowlful of ingredients—great for large families and entertaining guests.
MIX DOUGH IN SECONDS: Powerful dough mixer has the torque to fold in ingredients quickly and evenly, making up to 2 lbs. of dough in as little as 30 seconds.
What Can You Use a Mortar and Pestle For?
Those who prefer a mortar and pestle over a food processor cite the aromas and natural oils released by manually crushing the ingredients. Read about a few specific uses for a mortar and pestle below.
Grinding Spices 
From cinnamon and cardamom to chili powder and garlic, grinding your spices by hand releases their natural oils and seamlessly blends flavors. You can grind herbs or spices into a powder to create custom mixes and dry rubs or keep grinding until those excellent oils form into a delicious, flavorful paste.
Making Sauces, Dips, and More
Traditionally made in a seasoned molcajete, guacamole is a Mexican dish made from avocados, lime, and multiple spices. After trying guacamole made by hand in a mortar and pestle, you'll never look at store-bought guac the same way. Additionally, you can grind chilis and spices with a mortar and pestle to create the best curry paste you've ever had. 
Grinding Coffee 
A mortar and pestle make it easy to grind coffee into your desired size. Whether you need coarse beans for French press fans or something finer, you can easily control that with a mortar and pestle. 
If you tend to grind coffee beans in batches or prefer an automatic method, check out my review of the Kitchenaid Burr Coffee Grinder. 
What Can You Use a Food Processor For?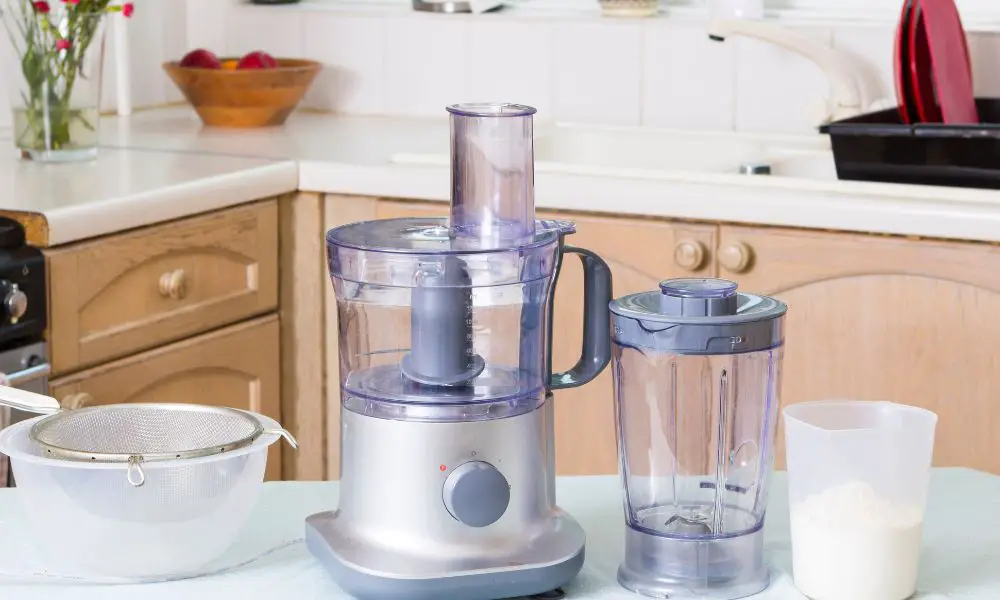 The capacity of your food processor will determine what you can make with it. Luckily, they are available in various sizes, from small two-cup (401-g) options up to ten cups (2 kg), depending on your available space and budget. There are multiple uses for a food processor, but here are a few options to get you started.
Crafting Pastry Dough
Anyone who's ever made dough from scratch knows that the kneading involved with more complex doughs is messy, time-consuming, and tough to get right. Fortunately, butter and flour can be added to the bowl of a food processor and blended to just the right consistency for pie crusts, shortbread, and more.
Cutting Potatoes for French Fries
With many different attachments available, you can cut, slice, shred, and chop virtually anything in a food processor. Some models come with attachments that cut potatoes into the perfect size for French fries. With these attachments, you could also make fries out of carrots, zucchini, or jicama. Dump the now-sliced veggies into your hot oil or air fryer, and you're done!
Chopping Nuts
If your recipe calls for chopped nuts, save money and purchase whole nuts instead of pre-chopped ones. A food processor can chop more nuts in a shorter time than it would take you to do so with a knife and cutting board. Additionally, you can control the nuts' size to ensure it stays consistent. 
Summing Up: Is a Food Processor or a Mortar and Pestle Better?
The decision to purchase a food processor or a mortar and pestle depends greatly upon what you want to use it for. Cost, efficiency, and storage also play a role. Your best option might be a food processor if you intend to make larger batches or need things done quickly. If you want to truly harness the flavor of an ingredient without as much messy cleanup, a mortar and pestle is perfect for you.
Sources