Do you want to purchase a new mortar and pestle but wonder what the best material is? If you're like most people, you probably haven't given it much thought. But it's worth comparing marble and granite if you're serious about making the perfect batch of your favorite delicacy.
Marble and granite mortar and pestles are different in terms of their durability, appearance, and cost. While they serve the same function, granite can withstand more pounding and grinding. On the other hand, marble is easy to clean and comes in various features.
If you're looking to buy a mortar and pestle but are stuck between marble and granite, you're not alone. I'll compare the two materials in this article to help you make the best decision for your needs. Read on to find out which will come on top.
Are Marble and Granite Mortar and Pestles Similar?
There's something so satisfying about freshly ground ingredients. The act of grinding them yourself somehow makes them taste even better. Plus, it's a great way to control the flavor and strength of your spices.
Marble and granite mortar and pestles serve the same function. You can use them to grind and crush different ingredients. In addition, both are made from natural stones, which you may find attractive.
However, they are different in several ways.
I'll highlight their differences by looking at the pros and cons of each material.
Marble Mortar and Pestle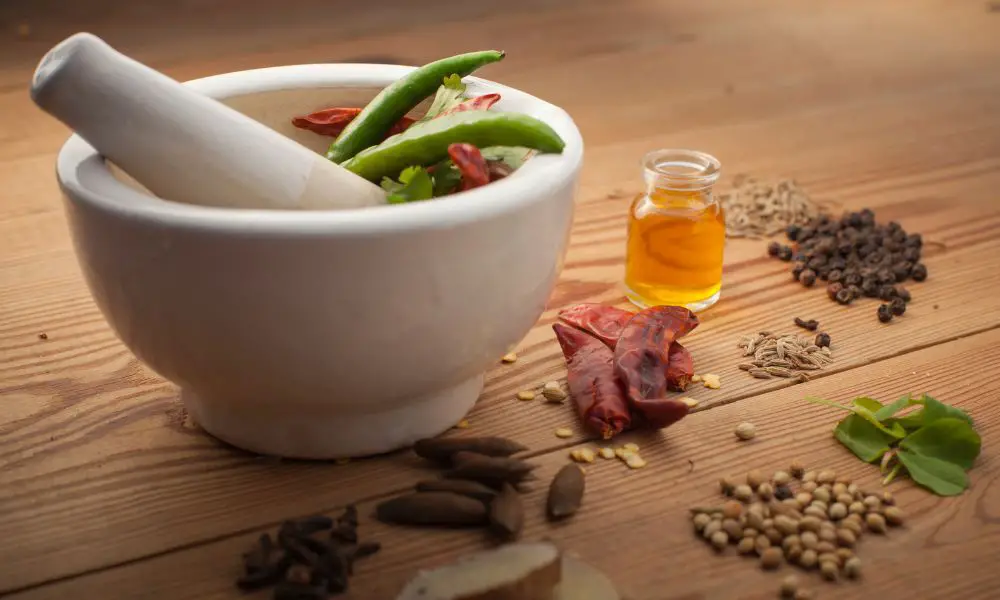 Pros
It is less expensive. For instance, with less than twenty bucks, you can get the Radicaln Mortar and Pestle Set (link to Amazon).
It's easy to clean.
It comes in a variety of designs.
You can use it for a variety of activities.
Cons
It's a brittle material, so it's more likely to scratch and wear over time.
Not suitable for acidic ingredients.
It can stain easily.
Granite Mortar and Pestle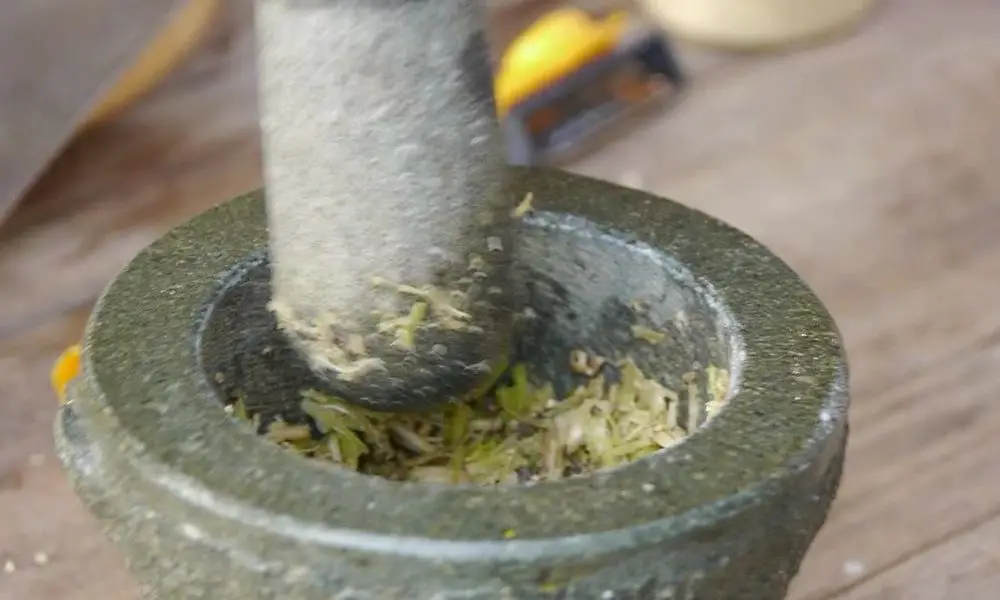 Pros
It's quite sturdy and can withstand high-intensity pounding and grinding.
It's food safe, so it won't absorb flavors or odors from the ground ingredients.
The material is hard, so the tool lasts longer.
It can endure acidic foods.
It's easy to maintain.
It has a rougher surface, which helps to grind better and crush ingredients.
It also comes in a variety of shapes, sizes, and colors.
Cons
It's dense, and thus requires effort to carry around or hold the pestle when grinding.
It's a bit pricey.
Sale
Laevo Mortar and Pestle Large Set | Black Granite | Stone Spice Grinder | 2.1 Cup Capacity | 5.5 inch | Reversible | Molcajete Mexicano | Guacamole, Pesto, Spices |Large Mortar & Pestles | Gift Set
PREMIUM FEATURES - Crafted from 100% solid marble, this mortar and pestle large set is heavyweight and provides exceptional stability with large 2 cup capacity. Its unique reversible design allows you to separate flavors. Both the mortal and pestle can be flippes for more utility.
ELEVATE YOUR CULINARY EXPERIENCE - Prepare healthy, homemade, and nutritious meals with ease using our mortar and pestle. The unpolished and non-porous interior texture ensures efficient grinding and crushing of spices, herbs, salt, coffee beans, and more. Easily create guacamole, curry, pastes, dips, dressings, and seasonings and enjoy the fresh, flavorful results.
GREAT GIFT - This mortar and pestle set is a great gift for any chef or home cook for Christmas, birthday, or housewarming! Get bonus items today - spoon and silicone lid / placemat free with your purchase.
MADE TO LAST - This mortar and pestle set is meticulously crafted to withstand the test of time. Invest in a natural, eco-friendly, premium-quality, and 100% solid marble stone set that will last a lifetime. The durability of this traditional manual grinding method ensures that all cooking ingredients bring out their full flavor and aroma profiles.
OUTSTANDING CUSTOMER SERVICE - We are a USA-based company and customer experience is our top priority. Don't take our word for it! This 5-star best seller is a favorite in kitchen essentials.
Granite or Marble? Which One Lasts Longer?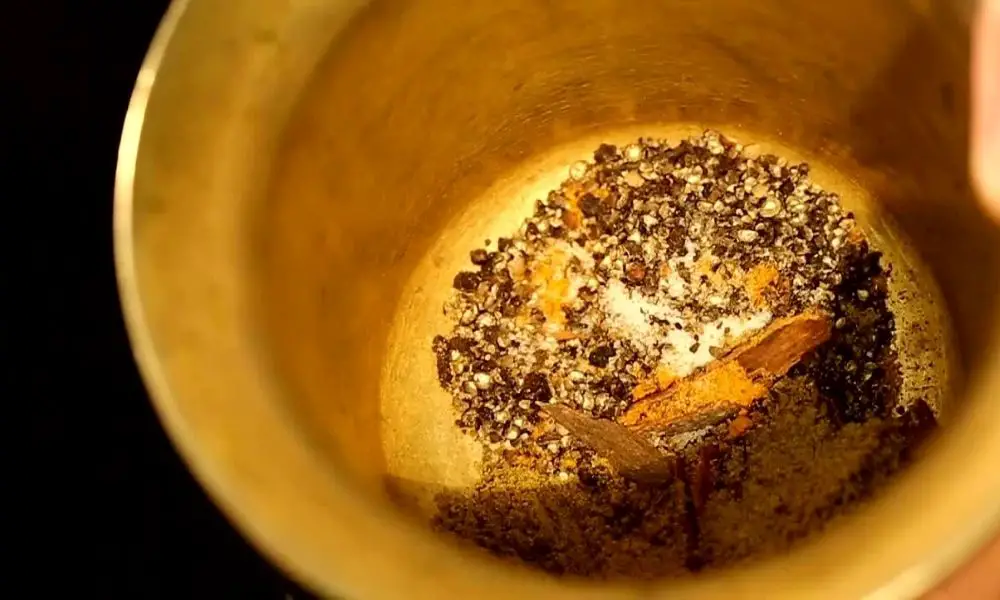 The lifespan of a granite or marble mortar and pestle will mostly depend on how you use and maintain it. However, your effort will count even more when you invest in quality material.
The quality of the stone matters here, and granite tops the list for mortar and pestle materials. Granite is one of the hardest rocks available. This makes a granite mortar and pestle a better option since it'll most likely last longer.
Since it is sturdy, granite is ideal for crushing and grinding spices and other rough ingredients.
On the other hand, marble is often used in high-traffic areas where the mortar and pestle are more likely to be damaged, so it may not last as long.
As a homemaker, it's up to you to decide which material suits your kitchen.
Should You Go for Marble or Granite If You're Looking for an Attractive Mortar and Pestle?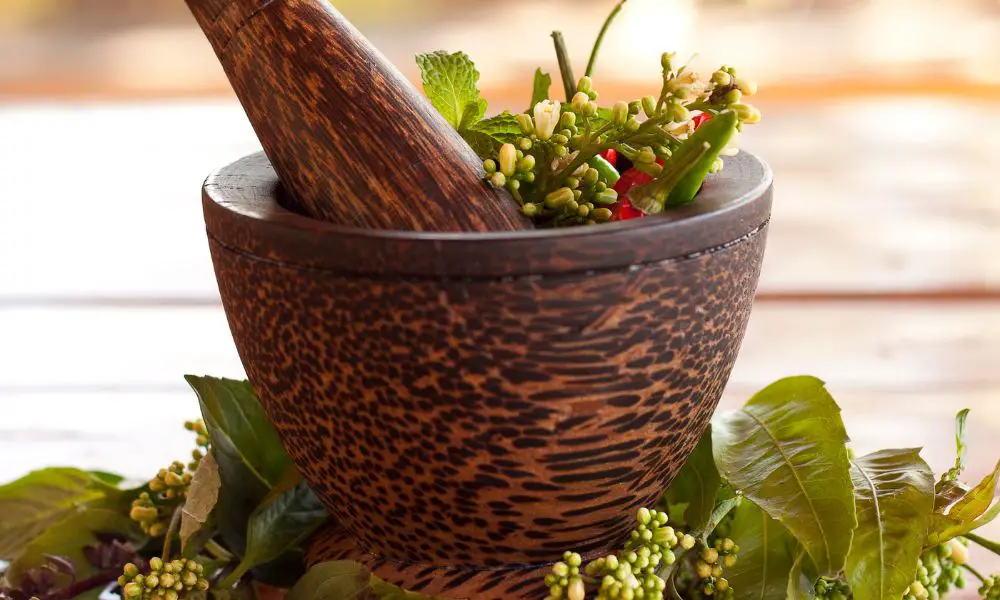 There is no denying that both marble and granite are aesthetically appealing. But which one should you choose if you're looking for an eye-catching piece?
Marble is often seen as the more luxurious option, and it can add elegance to any space. It comes in a wide variety of colors and patterns – so you're sure to find something suitable for your kitchen. Unfortunately, it's also softer and more susceptible to scratches and stains.
Granite, on the other hand, is a more long-lasting option. Its durable finish makes it less likely to scratch or stain, and it can also withstand higher temperatures.
Like marble, granite is also available in many colors and patterns. However, it may not be as widely available as marble, so it may take you more effort to find the perfect piece for your kitchen.
How Do You Choose the Best Material for Your Mortar and Pestle?
A mortar and pestle is a great addition to your kitchen. This tool can easily create spice blends and pastes, making your cooking more flavorful and exciting.
However, the challenge sets in when you have to choose the best material for your mortar and pestle.
Worry not. When choosing the material for your mortar and pestle, there are several things to consider:
Usage: Think about what you will be using the item for. A harder material like granite will be a good start if you use your mortar and pestle to grind spices and rough or hard ingredients. On the other hand, if you plan to use it for crushing herbs, then a softer material like marble would be a better choice.
Size and color: There are also different sizes and colors to choose from. Consider the size and color that would be most comfortable for you.
Cost: You also need to consider the price. Materials like granite or marble can be relatively expensive compared to wood or ceramic ones, but they will last longer. Hence, you'll not need to replace them more often.
What To Shop for if You're on a Budget
The price of a marble or granite mortar and pestle can vary depending on the size, material, or even where you purchase the item. However, deciding whether to buy either a marble or granite mortar and pestle may be tough if you're on a budget.
Both materials are beautiful and will last a long time, but granite is usually more expensive.
Granite might be the better option if you can get a good price on a granite mortar and pestle, but a marble one would be a great choice too.
Whichever you choose, the decision will come down to your preference.
What's the Best Way To Use a Granite Mortar and Pestle?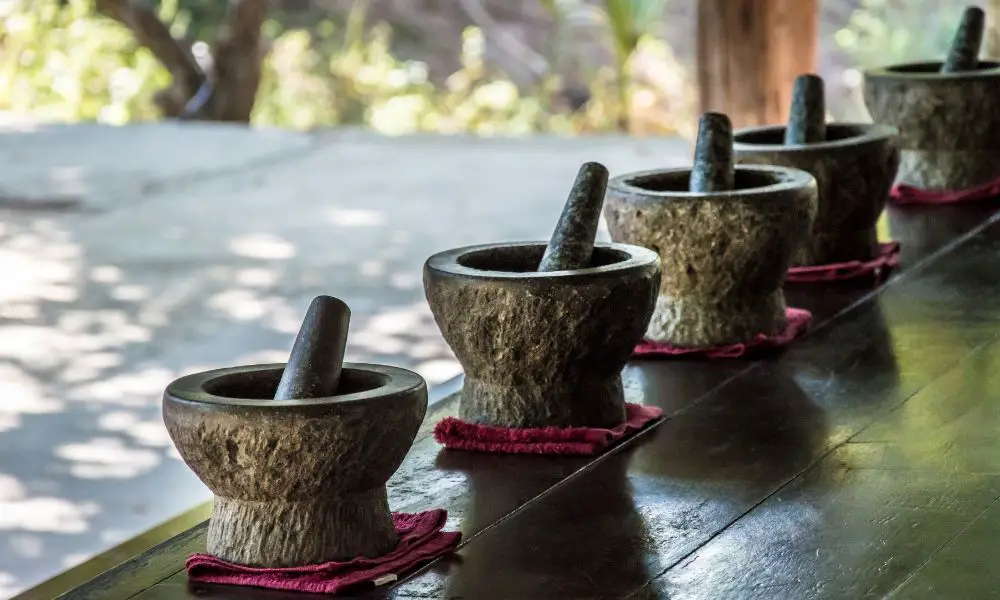 You've used a mortar and pestle countless times and find it useful and satisfying. However, did you know there are several ways to use your granite mortar and pestle other than merely grinding your spices?
Here are a few additional ways to make use of the tool:
Use it to make pesto, guacamole, and even hummus.
Best for grinding fruits and vegetables
Can be perfect for grinding herbs
Can serve as an ice crusher
Ideal for crushing nuts
It's a useful tool for making cocktails.
It's best for grinding medicine.
So, next time you're in the mood to grind something, ditch the electric grinder and opt for your mortar and pestle instead.
Conclusion
So, which is better – marble or granite? The answer may depend on your individual needs and preferences. However, I've provided useful information about what to look for when differentiating the two materials.
If you value durability and are looking for an attractive piece to add to your kitchen, you should go with a granite mortar and pestle.
However, if you don't want to spend much money and want a functional tool for your kitchen, consider a marble pestle and mortar.
Ultimately, the decision is yours to make!
Sources