If you love cooking meals with fresh herbs and spices, a mortar and pestle is a must-have in your kitchen. This simple tool allows you to grind your own spices, giving your dishes more flavor and aroma. But how do you clean a mortar and pestle?
To clean a marble mortar and pestle, rinse with water to remove debris and scrub with a mix of water and unscented soap using a brush. For a granite marble and pestle, scrub debris with a soft brush, let it soak in warm water, and use a mix of baking soda and water to remove stubborn stains.
If you notice your mortar and pestle starting to look dull, it's probably time to clean it. In this article, I'll show you how to clean different types of mortar and pestle so that your kitchen instrument is always ready to use. I'll also discuss whether cleaning your mortar and pestle in the dishwasher is acceptable.
How to Clean Marble Mortar and Pestle
Marble mortar and pestles have been used for centuries to prepare spices or medicines. Today, you can find one the like the Tera Mortar and Pestle Set on Amazon. The smooth surface of the marble prevents the absorption of oils and odors into the stone.
Tera Mortar and Pestle Set Marble Small Bowl Solid Stone Grinder Spice Herb Grinder Pill Crusher White, Diameter 3.93"
Solid Nature White Marble Construction: Exquisite marble exterior with interior unpolished for optimal mashing and crushing, excellent in crushing or grinding pills, herbs, spices, peppercorns to fine powder, making pet or baby food, mixing ingredients. NOTE: marble color may be slightly different from the images due to natural factors.
Small & Handy: mortar measurement 3.93"x2.36"x2.28", inside diameter 2.79", inside height of the bowl 1.57" at deepest part. About the size of the average palm - whereas one could pick it up with one hand and it would be roughly the same circumference as an average hand. Pestle measurement 5"x1.25", long enough to grip with the hand firmly while grinding and not scrape the hand on the edge of the bowl.
Easy to Clean: Just rinse the pestle and mortar with sponge thoroughly in warm water, and it doesn't leave any odor behind. Made from pure natural marble, please wash before the first use to remove the stone dust on the surface.
Well-packaged: thick EPE foam padding inside the box ensures the pestle and mortar delivered safe and sound. We read lots of buyer comments on similar products, clearly know the frustrating feeling of receiving a broken item. So we decided to make this mortar and pestle set differently in expectation of good shopping experience.
A Good Gift for a Kitchen Friend: Tera marble mortar bowl and pestle is not only a practical functional grinding tool for small items but also an elegant decoration to your kitchen countertop.
With repeated use, marble mortar and pestles can get dirty. If you don't sanitize them after each use, they can become stained with food residue and start to smell bad.
Here's how to clean a marble mortar and pestle:
Rinse the mortar and pestle with warm water to remove loose debris.
Create a solution consisting of warm water and gentle soap. Make sure the soap you're using is unscented.
Use a cloth or brush to scrub the inside of the mortar and the pestle with the mix. Pay special attention to any spots that have stains.
Rinse the soap off with clean water. 
Dry the mortar and pestle with a paper towel or air dry it.
If you're looking for a way to keep your marble mortar and pestle clean and shiny, try using lemon or vinegar. Just squeeze some lemon juice onto a paper towel and wipe the inside of the mortar and pestle. The acidic compounds in the lemon will help remove any stubborn stains or smells.
How to Season a Marble Mortar and Pestle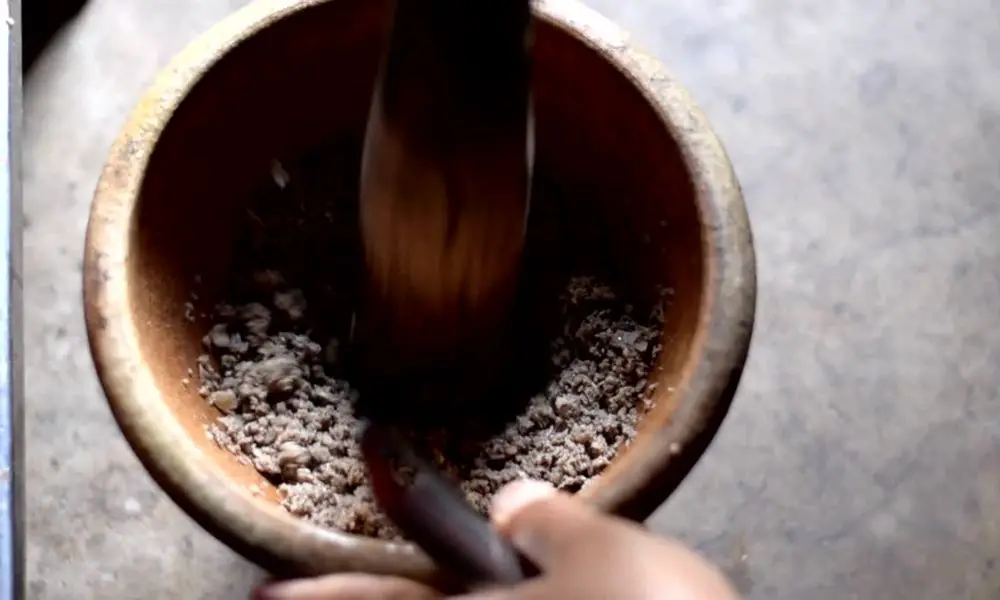 If you're using a mortar and pestle for the first time, there are a few things you should do to season it.
Rinse your marble mortar and pestle with clean water. Dry thoroughly.
Grind some white rice to loosen the marble grits. Once the rice has turned into powder, you can discard it.
Crush 4 garlic cloves into the mortar. Crush the garlic in circular motions
Discard the paste. Rinse the mortar and pestle with water and dry it.
Make a paste using baking soda and water. Spread the baking soda paste evenly by rotating the pestle along the sides and base.
Throw away the paste and rinse the bowl. Now your marble mortar and pestle are ready for use!
If you're not convinced about seasoning your mortar and pestle with garlic, I wrote an article about it that might change your mind.
How To Clean Granite Mortar and Pestle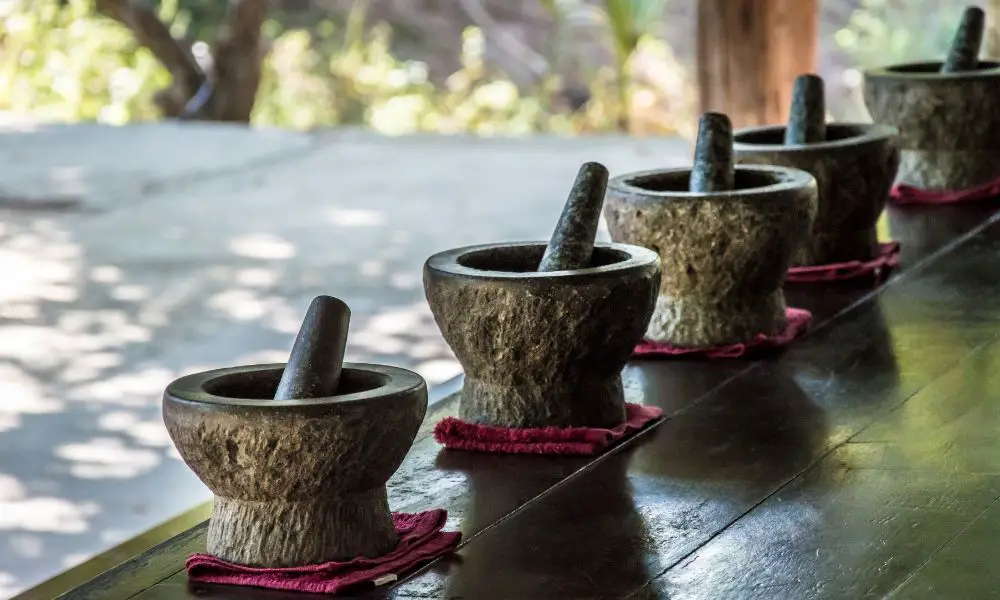 The granite mortar and pestle is an ancient kitchen tool still used today. If you want one with a modern look, I recommend the Laevo Mortar and Pestle Set (available on Amazon). This kitchen tool is perfect for those who want to experiment with new herbs and spices or grind fresh ingredients like coffee beans, cloves, garlic, ginger, and more.
Sale
Laevo Mortar and Pestle Large Set | Black Granite | Stone Spice Grinder | 2.1 Cup Capacity | 5.5 inch | Reversible | Molcajete Mexicano | Guacamole, Pesto, Spices |Large Mortar & Pestles | Gift Set
PREMIUM FEATURES - Crafted from 100% solid marble, this mortar and pestle large set is heavyweight and provides exceptional stability with large 2 cup capacity. Its unique reversible design allows you to separate flavors. Both the mortal and pestle can be flippes for more utility.
ELEVATE YOUR CULINARY EXPERIENCE - Prepare healthy, homemade, and nutritious meals with ease using our mortar and pestle. The unpolished and non-porous interior texture ensures efficient grinding and crushing of spices, herbs, salt, coffee beans, and more. Easily create guacamole, curry, pastes, dips, dressings, and seasonings and enjoy the fresh, flavorful results.
GREAT GIFT - This mortar and pestle set is a great gift for any chef or home cook for Christmas, birthday, or housewarming! Get bonus items today - spoon and silicone lid / placemat free with your purchase.
MADE TO LAST - This mortar and pestle set is meticulously crafted to withstand the test of time. Invest in a natural, eco-friendly, premium-quality, and 100% solid marble stone set that will last a lifetime. The durability of this traditional manual grinding method ensures that all cooking ingredients bring out their full flavor and aroma profiles.
OUTSTANDING CUSTOMER SERVICE - We are a USA-based company and customer experience is our top priority. Don't take our word for it! This 5-star best seller is a favorite in kitchen essentials.
The granite's hard surface helps grind the spices or herbs more effectively. Many people prefer granite mortar and pestle because it doesn't absorb the flavors of spices or herbs. Furthermore, it is durable and made to withstand many years of use. However, like all kitchen tools, the granite mortar and pestle can get dirty over time.
Here's how to clean your granite mortar and pestle:
Using a soft-bristled brush, scrub away any loose debris from the surface of the granite. You can soak the mortar and pestle in warm water for a few minutes before scrubbing if there is stubborn residue.
Combine warm water and baking soda, and use this solution to clean away leftover dirt or grime.
Once the mortar and pestle are clean, rinse them with cool water and dry them thoroughly with a soft cloth.
Avoid using strong, harsh chemicals or abrasive cleaners, as they can damage the granite. After cleaning, season the mortar and pestle before using them again. Doing so will help absorb residual moisture and prevent the granite from cracking.
How to Season Your Granite Mortar and Pestle
Before you use a granite mortar and pestle for the first time or after cleaning thoroughly, you'll need to season it. Doing so helps prevent particles of stone and grit from being released into your food. Additionally, it will keep your mortar and pestle from staining and help release the flavors of your spices and herbs. 
Seasoning your granite mortar and pestle is a simple process. Simply rub a small amount of salt and pepper. You can also grind salt until it becomes a fine powder before using your granite mortar and pestle for other ingredients.
Can You Put a Mortar and Pestle in the Dishwasher?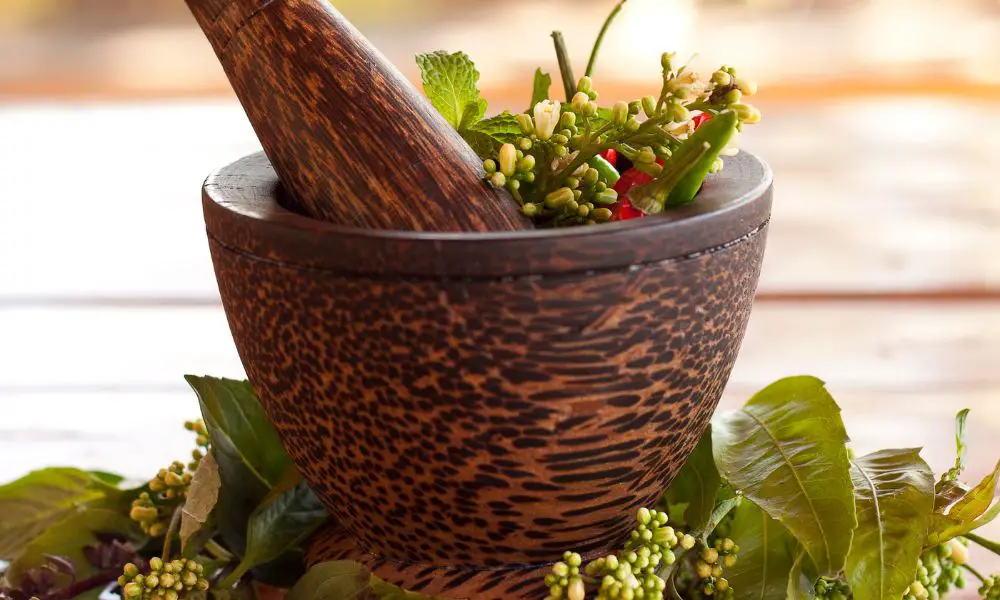 The mortar and pestle is one of the oldest tools in the kitchen, and you might be wondering whether you can clean them using modern appliances.
Most mortar and pestles are dishwasher-safe, but it's best to clean them by hand. The harsh chemicals in dishwashing detergent can damage the mortar and pestle. Over time, it will make the surface rough and difficult to use. 
Dishwashers can also cause some models of mortar and pestle to crack or break. The washing process can break down the surface of the mortar and pestle and make it less effective.
Conclusion
It's best to clean your mortar and pestle by hand, using a brush to remove any stuck-on bits before rinsing it with warm water.
If you need to use soap, be sure to rinse it thoroughly afterward so that no residue is left behind, which could affect the taste of your next dish. Taking these simple steps will help ensure that your mortar and pestle remain in good condition for years to come.
Sources