Most people may think that a muddler is just another name for a mortar and pestle. However, they're actually used for different things. You'll often see muddlers behind bars, used for making cocktails, but a mortar and pestle is a basic kitchen essential used by many traditional chefs. 
A muddler is different from a mortar and pestle in that it's used to smash up fruits and spices for cocktails, whereas a mortar and pestle are used in traditional kitchens to crush and grind ingredients before infusing them into their intended target.
Muddlers are commonly found in bars, while mortars and pestles are indispensable for home kitchens. We'll learn more differences between these two devices in this article and what makes each of them great at what they do best.
What Are the Differences Between a Muddler and a Mortar and Pestle?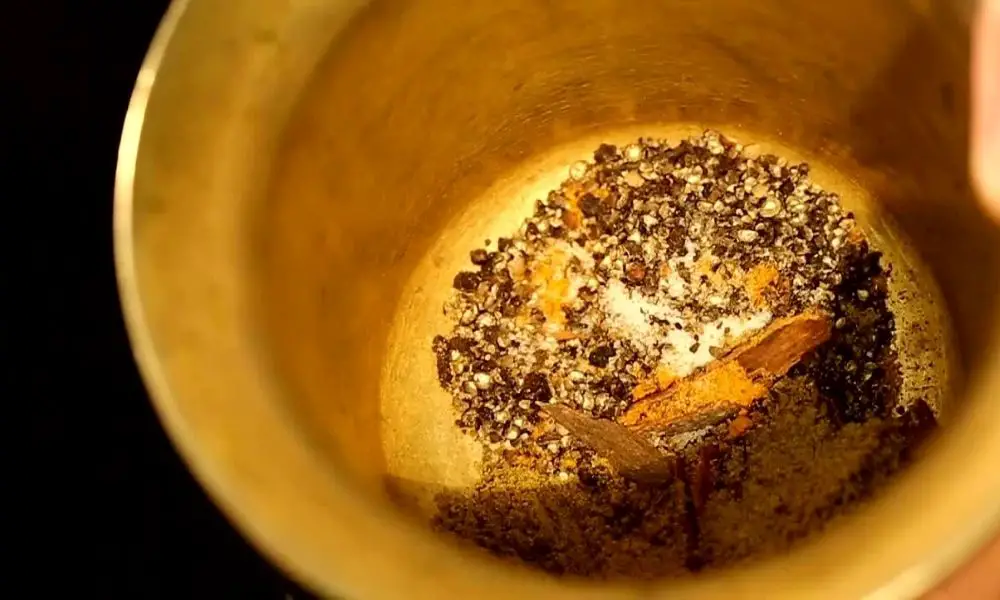 First, you can use a mortar and pestle as a muddler, but you'd find it hard to use a muddler as a mortar and pestle. Below you'll find some of the key differences between the two:
| | |
| --- | --- |
| Muddler | Mortar and pestle |
| Made of wood or metal.  | Sometimes made of wood, often made of rugged materials like ceramic and granite. |
| They were intended to extract aromas and flavors from ingredients. | They were intended to grind ingredients into powders or pastes. |
| They're used specifically to make drinks in bars and restaurants. | They're used to prepare ingredients in kitchens, pharmacies, labs, masonry, and for making ceramics. |
| It's a recent invention in the bartending space. | A mortar and pestle is a centuries-old cooking device. |
Muddler vs Mortar and Pestle Comparision Table
Cocktail Muddlers in Their Natural Habitat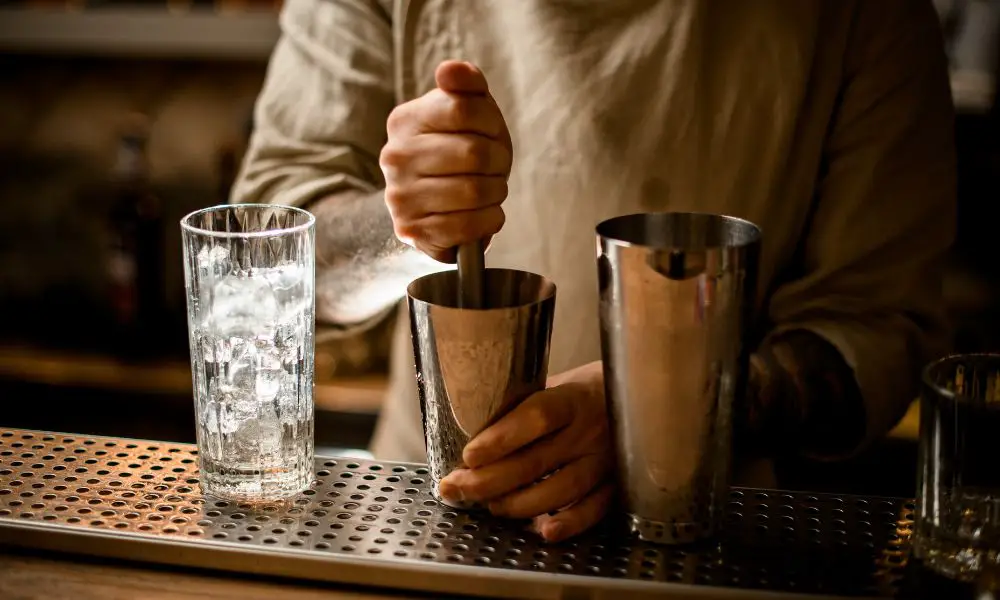 A muddler has the highly specialized function of mashing delicate ingredients so that their flavors color cocktails. If you're mixing a mojito, an old-fashioned, caipirinha, or a caipiroska, a muddler would be like a magic wand in your hand.
Muddlers are designed to draw essential aromas from fruits, spices, and herbs, giving drinks irreplaceable flavors. By muddling these ingredients, you also help them bind to the alcohol. 
Muddlers have become an indispensable tool for cocktail makers everywhere, and it's a skill that requires precision and attention to the pressure you're applying. 
Mashing the ingredients with precise pressure can affect the taste of a cocktail. This often means using gentle force to allow the flavors to complement, rather than overpower, the drink – this is especially the case if you're using strong herbs, such as mint.
The Wide Applicability of a Mortar and Pestle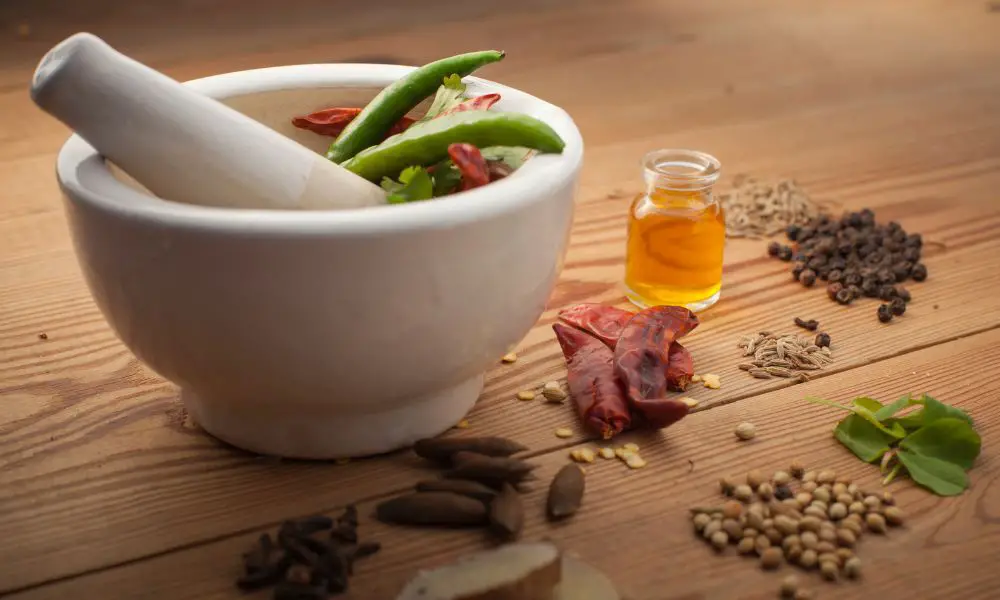 Among the tools our earliest ancestors crafted was the nifty mortar and pestle pair. Since then, we've been using them for everything from making garlic pastes to pesto. Since a pestle and mortar consist of two separate parts, it's used a little differently from a muddler. 
A mortar and pestle work together to ensure the effective grinding of the targeted ingredients. The hollow design of the mortar and club-shaped head of the pestle reduce any spillage and waste that would occur if you used a flat surface instead.
Sale
Gorilla Grip 100% Granite Slip Resistant Mortar and Pestle Set, Stone Guacamole Spice Grinder Bowls, Large Molcajete for Mexican Salsa Avocado Taco Mix Bowl, Kitchen Cooking Accessories, 1.5 Cup, Gray
BUILT GORILLA GRIP TOUGH: the last mortar and pestle you will ever buy, the Gorilla Grip Mortar and Pestle is ultra durable and built tough; featuring a heavy duty grinding pestle that crushes and mashes ingredients effortlessly, the mortar and pestle is ultra durable, and scratch resistant; its heavy base helps keep it in place and resist slipping and sliding, even while crushing the heaviest of ingredients
100 PERCENT NATURAL GRANITE: Gorilla Grip granite is sourced from natural granite mines, then handcrafted with care; granite is cut, shaped and polished into the mortar and pestle; natural granite has been used for generations due to its natural durability and long lasting use; no more heavy mixers or food processors, this granite mortar and pestle takes the effort out of food prep while also helps release the natural flavors of the ingredients
GUACAMOLE, SPICES, NUTS, AND MORE: not just for guacamole, the mortar and pestle is a great option for nearly any ingredient; crush up spices and herbs; create homemade pesto by grinding up nuts and seeds; serve up fresh dips; even a great choice for homemade dressings and salsas; impress your entire guest list with the tastiest dishes ever
NON SCRATCH BOTTOM: even though the mortar and pestle is heavy duty, it resists scratching countertops and surfaces; it features an optional foam bottom underside that helps protect surfaces, while also helping to prevent slipping and sliding while you prep
LARGE CAPACITY MORTAR AND PESTLE IS A PERFECT GIFT: mortar and pestle comes in 3 sizes; large size measures 5.2" x 3.2", weighs 3.9lbs, and holds up to 1.5 cups of ingredients; a perfect year round gift for anyone who enjoys cooking; beautifully designed so that it can be displayed on any countertop and add to the décor of the kitchen
Various industries call upon this instrumental pair to get their jobs done:
Cooking: Several marinades, dips, and sauces require the services of a mortar and pestle. These include guacamole, pesto, and salad dressings.
Pharmacies: Mortars and pestles grind pills into powder to aid their uptake. Medicines that need to be inhaled are also commonly prepared using this tool. 
Labs: Chemicals in powder form dissolve easier than their solid counterparts. In a previous article, we discussed how to clean mortars and pestles in the lab.
Ceramics: Many mortars and pestles are ceramic-based, but they also help grind other ceramic materials into more refined forms to manufacture firesand. This process lays the ground for making ceramic ware.
Bartending: In the absence of a muddler, the pestle handle and mortar are a great substitute. 
Final Thoughts
Muddlers and mortars and pestles are both invaluable tools in their respective habitats. Muddlers are most often used in cocktail making, and when it comes to getting that delicious mojito, a muddler is your best bet. On the other hand, a mortar and pestle will allow you to make any kind of paste or sauce – and it also requires more force than the bartender's muddler. 
Sources