If you want to make homemade guacamole, one of the first things o consider is a good mortar and pestle that will give you that creamy and rich-flavored dip. Considering that there are thousands of possible mortar and pestle sets to choose from, you may be wondering which the right choice is.
The best mortar and pestle for guacamole is the IMUSA Molcajete Spice Grinder, which is a 6" (15.24 cm) mortar and pestle that's stable enough for heavy party-sized guacamole grinding. It's also granite, meaning the tool won't absorb any of the spices' flavors.
In the following sections, I'll walk you through some of the other best mortars and pestles for guacamole. Let's start!
The IMUSA Molcajete Spice Grinder is one of the best granite mortars and pestles for making guacamole. The wide mouth can fit up to 2 cups of guacamole servings. Apart from being made of granite, this 6" (15.24 cm) molcajete is extremely sturdy. 
Unlike the regular bowl-like mortar, it has three feet for a more balanced structure.
IMUSA USA Granite Molcajete Spice Grinder 6-Inch, Gray
Made Of Granite
Beautiful Serving Piece, goes Seamlessly From Kitchen to Table
Easily Grinds Spices & Herbs
Beautiful Serving Piece
Ideal to Prepare Salsas, Dips, Guacamole, Spices and More; Ideal 6 Inch Diameter, Making it Easy to Crush
Pros
Easy-to-clean: The IMUSA Molcajete is easy to clean and take care of. You only need to handwash it, and because it's granite, drying both the mortar and pestle is as easy as wiping them with a clean cloth. It also comes with detailed care instructions for a better guide.
Nonporous material: Another benefit of having a granite mortar and pestle for guacamole is the nonporous grinding surface. This means that the tool won't absorb the oil and flavor coming from the herbs and spices that you'll grind. 
Cons
Can be messy: Since the mortar's mouth is wider than usual, your knuckles can stick to whatever you're grinding, and things can get messy.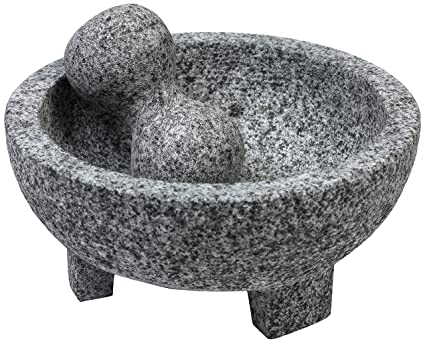 Using a mortar and pestle can be very tiring and painful for our hands, so if this is something that you struggle with often, I recommend the Cooler Kitchen EZ Grip Mortar and Pestle Set. It comes with detachable silicone, which will help keep a tighter and more comfortable grip. 
Similarly, the mortar has a detachable silicone base to keep it from moving or rolling around.
Sale
Large Mortar and Pestle Set - EZ-Grip Silicone & Porcelain Mortar with Detachable Scratch Proof Silicone Base - Perfect for Guacamole Spices and More - New BREAKPROOF Bowl - Dishwasher Safe Molcajete
EASY TO CLEAN AND BUILT TO LAST: Our dishwasher safe large mortar and pestle set will stand up to repeated cleaning and won't absorb odors or transfer flavors. The unglazed grinding surface prevents the mechanism from flaking or powdering. Porcelain is the ideal material to use as a smasher to grind anything. BEST GUACAMOLE MORTAR AND PESTLE
EFFORTLESSLY GRIND - GREAT FOR ARTHRITIS OR WRIST INJURIES! Don't buy another small morter and pessel set where the mortar slips and slides on your counter when mashing and muddling. Our mortar has has a silicone handle to make it effortless to manual grind. No more struggling to find your grip! You'll wish you had bought this mortar & pestle years ago.
USEFUL IN ANY HOME KITCHEN OR TO GRIND MEDICATION - Large enough to use for guacamole or pesto - effortlessly Crush herbs, grains, spices, nuts, seeds, garlic, teas, bread, biscuits (for making homemade bread crumbs!), science experiments, or even crushing medicines for pets (great for your dog!) and humans alike. Ideal for unlocking the hidden oils in your everyday dry spices.
APOTHECARY GRADE PORCELAIN - Pharmacies traditionally use non-porous porcelain to grind medication - with great reason. Consider these common issues: wood absorbs the taste of the previous grind - yuck! A Marble or granite molcajete can create marble powder- gross! A stone bowl is is hard to clean (no soap!) - Stainless Steel can rust!
NEW NO BREAK NO SCRATCH SILLICON RING BASE DESIGN, to keep it still while you use it. USEFUL IN ANY HOME KITCHEN OR AS A PILL GRINDER TO CRUSH MEDICATION OR AS GRINDER BOWL FOR SPICES AND SEEDS - 6.0 inches across, 6.0 inches tall; Pestle- 6.0 inches tall. Add To Cart Now!
Pros
Extreme durability: The Cooler Kitchen EZ Grip uses breakproof, apothecary-grade porcelain. It's a lot more durable than granite mortars and pestles, but it still retains the nonporous quality to fully keep the flavor of your guacamole.
Dishwasher-safe: This porcelain mortar and pestle set is easy to clean. You can hand wash it with soap and water, but if you want to save time, you can even leave it in the dishwasher. 
Cons
Doesn't offer aesthetics: Unfortunately, if you're looking for a mortar and pestle that can be a kitchen statement, the EZ Grip isn't for you. With or without silicone, it won't be able to give you that sleek aesthetic.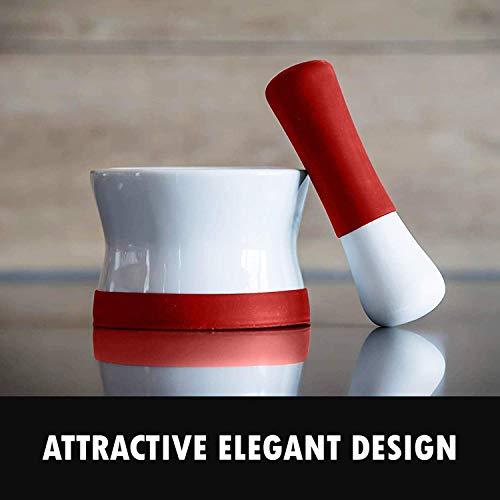 The Tera Mortar and Pestle Set is a must if you want something affordable. The set uses natural granite, which makes it perfect for making homemade guacamole. 
What makes this particularly special is it comes with a silicone lid, which you can use to cover the leftover guacamole servings in the mortar. Better yet, you can put the lid on while grinding the ingredients to avoid mess.
Tera Mortar and Pestle Set 2-Cup Capacity Molcajete Bowl, incl. Silicone Lid, Garlic Peeler, Stick-on Anti-Slip Pad for Base, Unpolished Granite Mortar and Pestle Spice Grinder 5.5 Inch
INCLUEDE Silicone Lid, Garlic Peeler, and Stick-on Pad for Base: A silicone rubber Garlic Peeler to get perfectly peeled garlic! We provide one stick-on pad for base to protect your counter top and stabilize the mortar. Silicone Lid allows you to gauge your strikes while keeping flying ingredients from making a mess.
Heavy Duty and Convenient: Unpolished granite pestle and mortar constructed with thick walls and base. 2 Cup generous capacity can meet all your requirements.Heavy weight ensures steady use on the countertop.
2 Cup Capacity Multi-usage: Perfect for everything from cracking peppercorns and crushing tender herbs to making pesto, salsa and guacamole, sauces, recipes and more!
Easy to Clean: Just rinse the pestle and mortar with sponge thoroughly in warm water, and it doesn't leave any odor behind. Made from pure natural granite, please wash before the first use to remove the granite powder on the surface.
Well-packaged: With enough padding inside the box, the pestle and mortar will be delivered without any damage.
Pros
Sturdy grinding: Apart from the silicon lid, the Tera Mortar and Pestle Set also has a stick-on anti-slip pad. Stick it to the bottom of the mortar to prevent it from slipping or moving while you grind the ingredients.
Not space-consuming: The mortar can hold up to two cups, but it's only 3.94" (10 cm) in height and width, which makes it perfect for small kitchens.
Cons
Pestle can be uncomfortable: The pestle is about 5.9" (14.98 cm) long, so it can be too large for some people. 
The list won't be complete without the Vasconia 4-Cup Granite Molcajete. Out of all the other mortar and pestle sets in this article, Vasconia offers the largest capacity. It can hold up to four cups of whatever salsa or dip you plan on making. 
This will be the best choice if you're looking for a mortar and pestle for your party-size guacamole.
Sale
Vasconia 4-Cup Granite Molcajete Mortar and Pestle, Gray
AUTHETNIC TOOL FOR GRINDING: Enjoy an authentic, hands-on tool for grinding grains, spices, and herbs, as well as making salsas, guacamole, and pico de gallo.
LARGE CAPACITY FOR GRINDING: The beautiful granite Molcajete has a 4-cup capacity, this mortar and pestle looks great on the counter and also looks beautiful on the table serving a hand-prepared salsa.
THE IDEAL GRINDING TOOL: The smooth interior is an ideal grinding surface and overall it bears a classic, traditional design.
EASY TO CLEAN: Do not place in dishwasher, for best results hand wash and set out to dry.
DIMENSIONS: Overall dimension: 3.4 H x 7.9 W x 7.9 D inches, product weight 7.05 pounds.
Pros
Durable: Because this molcajete is granite, you can expect the set to be durable and long-lasting. It also won't absorb the oil and flavor of your guacamole.
Affordable: The Vasconia 4-Cup Granite Molcajete is a great dupe for the IMUSA Molcajete. The two offer almost the same, but the former is much more affordable.
Cons
Not dishwasher-safe: Unfortunately, you may need extra time and effort to clean the mortar and pestle. It's not dishwasher-safe, so you must handwash it after every use.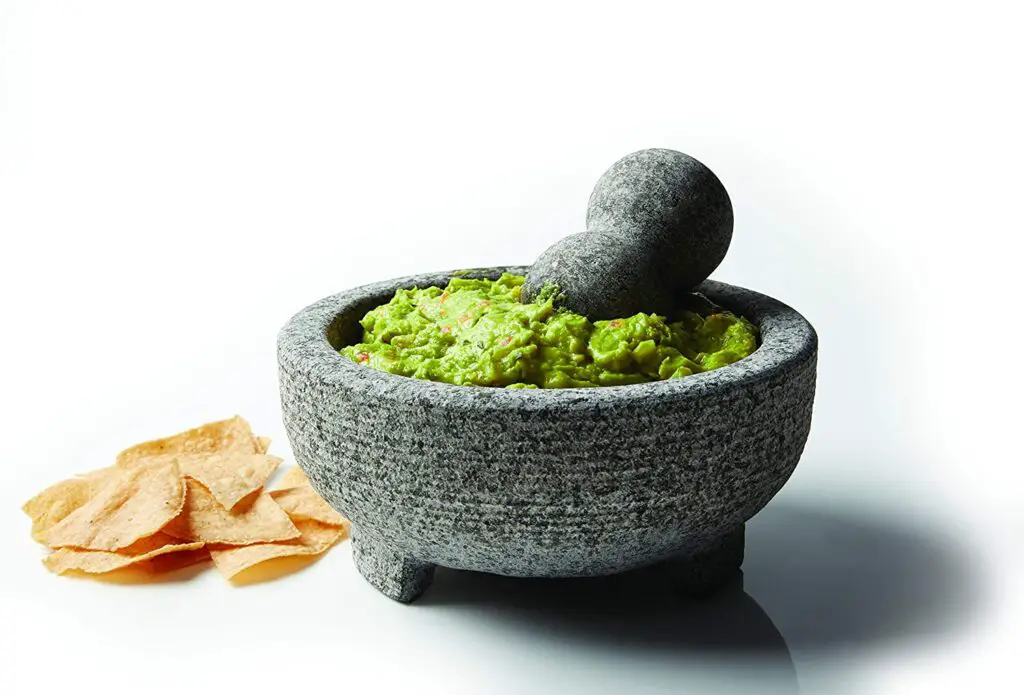 Final Thoughts
The mortar and pestle you'll use for your homemade guacamole will greatly affect its taste and the number of servings you can make in one go. Make sure to consider factors like your budget, kitchen space, the type of salsas and dips you plan on making apart from guacamole, and the like.
Sources