For some patients, pills can be tough to swallow, and there are no syrup alternatives for their medicines. In these cases, a mortar and pestle comes in handy for crushing the pills so they can be taken in a different way — but with so many types to choose from, which mortar and pestle is right for you? 
The best mortar and pestle for crushing pills is the Apothecary Products Mortar and Pestle Bowl. This mixer and grinder for medicine was specifically designed for this purpose and is more efficient than a generalized mortar and pestle when it comes to crushing pills. 
The rest of this article takes a look at the best mortars and pestles for crushing pills. Let's dive right in!
While you can technically use any mortar and pestle for crushing pills, the Apothecary Products mortar and pestle are designed explicitly for pharmaceutical compounding. They are more efficient than most mortars and pestles you would find in a kitchen.
From their shape, weight, and surface to the pour spout on the rim of the bowl, this mortar and pestle is the one you need for pill crushing and medicine grinding.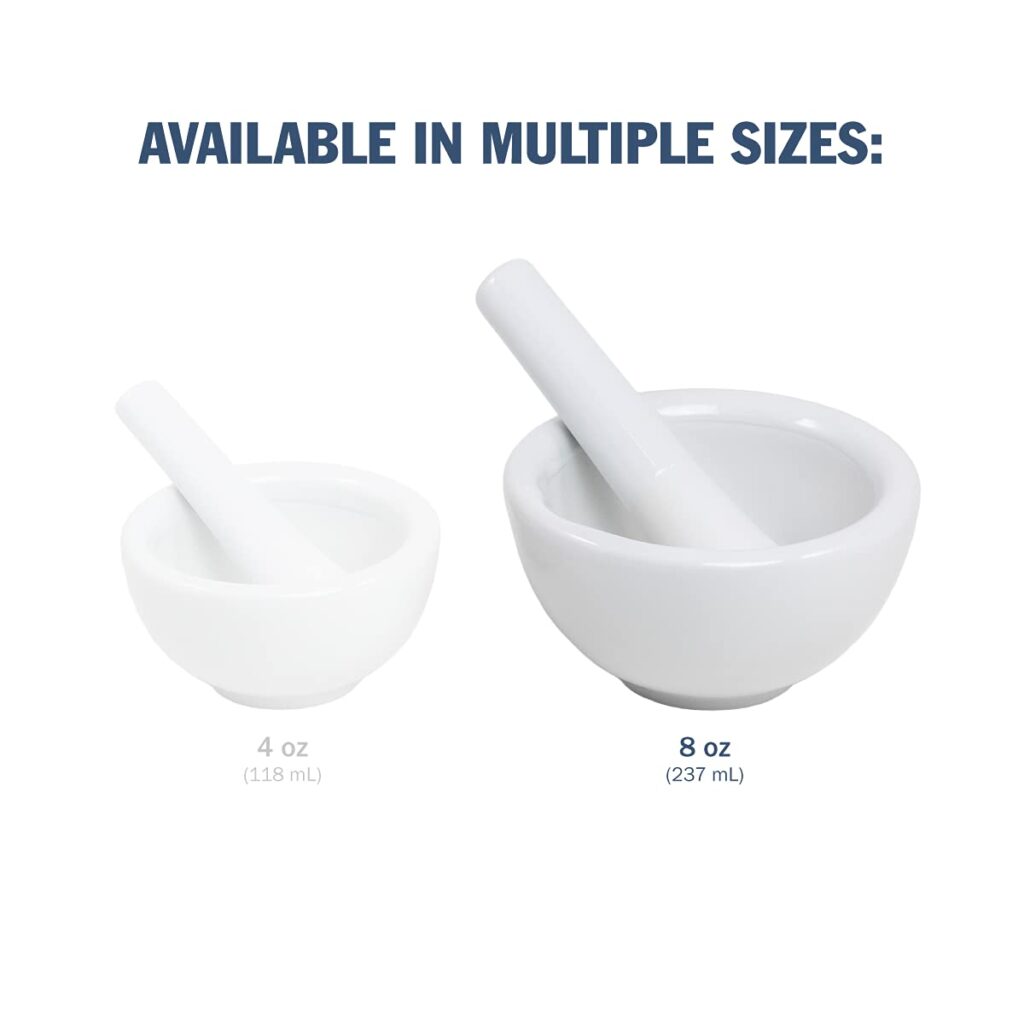 Pros
Clear glass construction: The mortar and pestle are both made of glass, allowing you to easily see whether the pills have been crushed well enough. 
Specialty design: Unlike other mortars and pestles primarily meant for crushing and grinding spices and herbs, the Apothecary Products mortar and pestle are intended for crushing pills. 
Cons
Fragile: The manufacturer assures that this mortar and pestle are built to last and withstand repeated crushing and grinding. However, the fact that it is made of glass speaks clearly of its fragility, and care should be taken to prevent knocks and drops. 
Sale
Small Mortar and Pestle Set - EZ-Grip Silicone & Porcelain handle and base - NEW Dishwasher Safe BREAKPROOF Bowl - Great Spice and Herb Grinder & Crusher - Molcajete Guacamole Bowl by Cooler Kitchen
NON SLIP GRIPPED HANDLE AND BASE - Our mortar and pestle set has a silicone bowl to keep it still while you use it. The pestle has a silicone handle to make it easier to grind.
NON SLIP GRIPPED HANDLE AND BASE - Our mortar and pestle set has a silicone bowl to keep it still while you use it. The pestle has a silicone handle to make it easier to grind.
APOTHECARY GRADE PORCELAIN - Pharmacies traditionally use non-porous porcelain to grind medication - with great reason. Wood absorbs the taste of previous grinds. Marble or granite create powder- gross! Stone is hard to clean (can't use soap!
GREAT FOR: powdering herbs, grains, spices, nuts, seeds, teas, bread, biscuits (for making homemade bread crumbs!), or crushing medicines for pets and humans alike. Ideal for unlocking the hidden oils in your everyday dry spices as a spice grinder.
USEFUL IN ANY HOME KITCHEN OR AS A PILL GRINDER TO CRUSH MEDICATION OR AS GRINDER BOWL FOR SPICES AND SEEDS and GUACAMOLE BOWL - 4.5 inches across, 3.25 inches tall; Pestle- 5.5 inches tall. Add To Cart Now!
This porcelain mortar and pestle come with silicone attachments that offer better grip and stability when crushing pills. It is an excellent option for people with arthritic conditions or wrist injuries. 
Pros
Silicone grip and base: Silicone attachments are not very common mortar and pestle accessories. This brilliant addition by Cooler Kitchen allows a better grip on the pestle and a stable mortar that stays in place instead of skiing across the countertop while you crush and grind your pills.
Weighted porcelain base: In addition to the detachable silicone base, the main porcelain base of the mortar is weighted to give more stability.
Dishwasher safe: This mortar and pestle are 100% dishwasher safe and soap friendly for easy cleaning.
Cons
Price: This mortar and pestle costs more than the Apothecary Products alternative. Quality does come at a higher price, after all.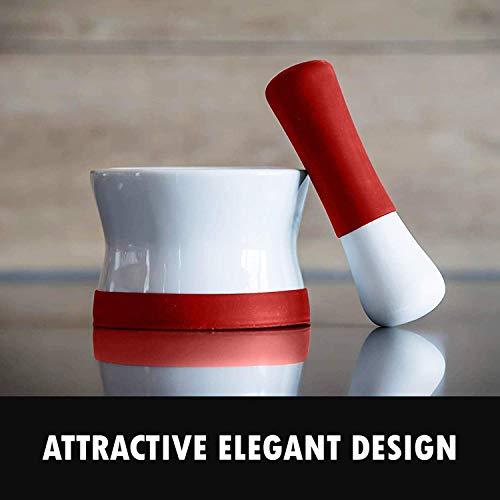 HIC Kitchen Mortar and Pestle for Grinding Spices and Herbs and Crushing Pills, Fine-Quality Porcelain
HIC Kitchen's Mortar and Pestle Set for grinding items into a fine paste or powder
Made from fine-quality porcelain; complements any decor; mortar 2.75 x 1.5-inches; pestle 2.875-inches
Quickly grind and break down ingredients; speeds up food preparation with minimum effort
Make aromatic dry rubs, curry pastes, pestos, nut butters, and ground cinnamon, or grind peppercorns, prepare holistic remedies, crush pills, and more
Easy to use and clean; dishwasher safe for easy cleanup
This very simple porcelain mortar and pestle set is among the lower-priced options on the market. But this is by no means an indicator of reduced product quality. On the contrary, the HIC mortar and pestle is a very competent pill crusher. 
Pros
Smooth surface: The smooth surface ensures that no powders from the mortar and pestle are mixed in with your crushed pills. This is sometimes the case with mortars and pestles with more abrasive surfaces, such as those made of granite.
Non-absorbent surface: The mortar and pestle do not absorb odors and flavors, so there would be no problem if you use them for crushing and grinding items other than pills.
Dishwasher safe: This mortar and pestle set can be conveniently placed in a dishwasher for cleaning. 
Cons
Not very stable: Some may find it a bit difficult to rigorously crush and grind with the smaller variants of this mortar and pestle set. Moreover, the smooth porcelain base of the mortar could cause it to slide on the countertop while grinding.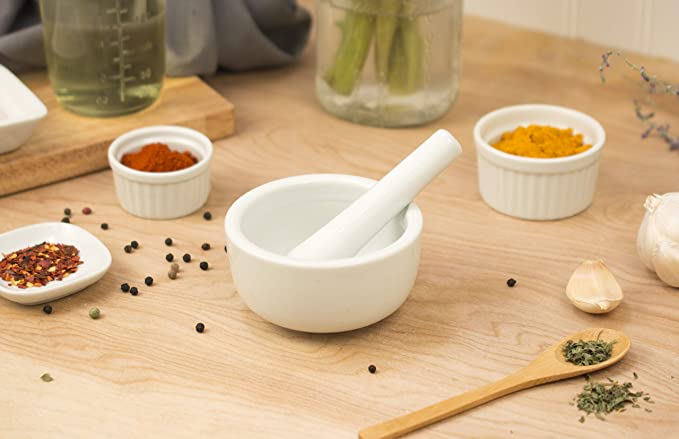 Final Thoughts
Crushing pills are a helpful alternative to taking medicines for patients who cannot swallow them. This method can also be used when giving medicine to cats and dogs. The best way to go about crushing and grinding these pills is with a mortar and pestle designed for this purpose. 
Any mortar and pestle would do a decent enough job. But if crushing pills is something you will be doing for the long-term — such as for maintenance medication — it would be ideal to have a mortar and pestle intended for crushing pills. 
Sources