There's a reason why people who already owned a standard Vitamix blender with a wet container go for the dry grain container. It's not like you can't get things done with the wet container but putting "Dry Grains" in it for a long time will not only dull the blades but will eventually leave your container with lots of scratches.
So if you're someone that grinds a lot then you might want to know why it is important to own a dry container which would enable you to grind all of those hard grains in peace without you having to worry about whether you'll ruin your container or not.
In A Hurry? Below Are Some Few Other Dry Containers You Might Be Interested In
Product Name
Where To Buy
Vitamix Ascent Series Dry Grains Container, 48 oz. with SELF-DETECT
Buy On Amazon
Vitamix Aer Disc Container, 48 oz.
Buy On Amazon
Vitamix Container, 48 oz., Clear - 56085
Buy On Amazon
Vitamix Container, 64oz. Low-Profile
by Vitamix
Buy On Amazon
 Before I go to the review proper, here' what I want you to know. In this article, I'm going to discuss with you;
What a dry grain container is
The reason why you should own one
The Vitamix dry grains container review
How you can grind dry grains with it
Plus how to care for them.
What Is A Dry Grain Container In The First Place?
As you may have guessed already, a dry container is a kind of attachment you can buy alongside with a standard blender. The sole purpose of a dry grain container in a blender is to enable one grind dry hard grains into powder form easily and more conveniently.
Reason Why You Should Own One
There are numerous reasons why it is especially important for you to own a dry grain container (such as the Vitamix Dry Grains Container). Let's quickly look at three of them.
1. Longevity
Have you ever wondered why there are pits and scratches inside your container each time you grind grains with your standard Vitamix wet container? Well, it's because this container isn't designed to grind hard grains.
Grinding hard dry grains in a wet Vitamix container consistently may scratch the inside and cause your container to wear down faster thereby reducing the quality of the container. This isn't the same when you purchase a dry grain container.
2. Dullness
If you're that type that grinds a lot of grains with your wet container, then you must have noticed how dull your blades have become. Yes, the reason for that isn't far fetched.
Grains are a hard nut to break down so a lot of effort is needed to turn them into powdered form but you don't have to worry when you have a dry container with blades that are sharp enough to go through tough grains to give you your desired results.
3. Convenience
I've often found out that having a wet and dry container makes life much easier than when you have just one. Imagine if you want to prepare a recipe that requires grinding both wet and dry ingredients at the same time and what you have is just one container. How do you go about it?
Even if you plan to reuse the same wet container to grind your dry grains, you might want to clean them first which isn't convenient most times than when you own both containers.
Now that you know what a dry container entails and why it's important to purchase one, let's quickly go straight to the reviews.
Vitamix Dry Grains Container Review
Purchasing a
Vitamix blender
is a great investment anyone can make. If you've got one already, then I want to congratulate you. If you're yet to get one, then you should do so, today.
Who Is The Vitamix Dry Grains Container Designed For?
If you've taken the step to purchase the standard Vitamix blender, you might be wondering whether it's important to buy the dry grains container attachments.
Well, it isn't that necessary but it's essential you do so because it will make grinding dry grains a lot easier and faster for you than when you're using a wet container.
So the Vitamix dry grains container is designed for;
People like you that want to grind lots of dry ingredients like cereal, coffee bean or whole grains into flour for kneading thick dough for bread or pizza at home.
And for those that are looking for a hassle-free way of preparing or processing whole grains.
Features:
Overview
The Vitamix dry blade container is a powerful add on for most Vitamix blender. (especially Classic C- or G-Series Vitamix® blenders). The Vitamix dry blade container comes with a transparent square body with a height of about 9.8 inches tall and weighs about 1 lb 15 oz.
The size isn't that large so it can fit perfectly for those with limited spaces in their kitchen. Also, If you're looking for a faster way to grind grains on a daily basis, then you'll like the idea of purchasing a dry blade container.
I was able to grind whole grains that is half the size of the container about a minute and some seconds. All thanks to the blades.
Unboxing
The Vitamix dry blade container comes in a well-packaged carton with a user and care manual lying by the side of the container. Truth is, I was pleasantly surprised to see that the container didn't only come with a user manual but also came with an extra manual titled,
"A whole grain cookbook"
The whole grain cookbook actually teaches you how to use the dry grain container and also gives you some insight that you might find helpful. For example, the cookbook can tell you how much grains you need to put inside the container and how long it would take for it to grind completely.
So in essence, here's what you'll find in your package;
The dry grain container
The lid cover
A user manual
And a whole grain cookbook
Build & Technology
The Vitamix dry grain container is made from hard BPA-free Eastman Tritan copolyester material that is light, extremely safe and very durable. Aside from the fact that it's light and easy to maintain, cleaning the container feels like a breeze.
Unlike the 48 ounce container, this 32-ounce container isn't built with a Self-Detect™ Technology ( this feature enables the blender to automatically recognise the container and then adjust it's blend settings for its size. Most notable example of blenders with these amazing features is the Ascent™ Series Vitamix blender.
The Dry Container
There isn't much of a difference between the wet and dry container except that one is a bit bigger than the other in terms of size and shape.
The wet container comes in a massive 64 ounce while that of the dry container is half the size of the standard container (32) ounces. Not just that, the dry container is also narrower than the standard container.
Each of these containers is clearly marked with cup and ounce measurements with deep black marks that are easy to read on the sides of the container. There's also an extra 2-ounce measurement line on the lid plug of the container.
Performance
The dry container also comes with 4 sized laser-cut stainless steel blade, measuring 2.8 in/7.1 cm diameter that is designed to push grains up so they don't clog the bottom corners of the container.
Two of the blades are dull and lay flat just below the container while the other 2 blades that are sharp are slightly above the dull blades to form a cross-like shape.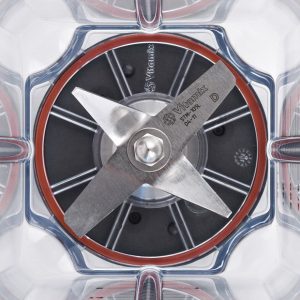 The dull blades are responsible for crushing the grains into tiny fragments, while the two sharp blades further break it down into powdered form.
Having a smaller container with a blade that fits perfectly well will cause dry grains to fall back to the blades as the dull blades crushes and push the grains over to the sharp blade.
This will ensure that all the grains go through the blades to give you that consistent powdered texture you desire.
Over Heat
Unfortunately, the dry grain container isn't built to withstand heat and high temperature. This means that grinding an item for more than 1 or 2 minutes at a stretch will cause it to overheat and may lead to permanent damage.
Despite the shortcomings, expect to get a well ground grain in minutes. Even if it didn't give you what you want at the first grind, you can always do so the second time.
Assembly And Disassembly
There isn't much needed for you to do and that's because the dry container comes well assembled. If you ever need to change the blades then you might want to take it to a technician but if you prefer to do this on your own, then you'll be needing;
A blade removal tool
Pliers or multi grips.
The below video will help you to disassemble and assemble a Vitamix blade yourself.
 What I Like About The Dry Container
There's a lot to like about this awesome dry grain container. Below are a few of what you too will like.
It's very efficient and comes with a heavy-duty hammermill, laser-cut blades that can grind grains in minutes.
Highly durable and can stand the test of time.
The container is BPA-free which means that it's free from harmful chemicals that most plastic has.
It's extremely light and easy to clean
It's also easy to use and comes with a whopping 3-year warranty if you buy directly from the company.
What I Didn't Like
The dry grain container isn't compatible with all Vitamix series especially the Ascent series blender.
How To Grind Grains With The Dry Grain Container
Grinding grains with your dry container isn't much of a difficult task to do but there are some things you need to consider before you go ahead with the whole grinding thingy.
Ensure that what you intend to grind shouldn't be more than half the container
Make sure the lid is screw tightly until it perfectly fits the container.  This will prevent what you're grinding in there from popping up and flying all over your kitchen.
Also, ensure that the gear that spins the blades should fit comfortably to the blender.
Once this is done, switch on the blender using the "Start" button then gently turn the knob at the middle from speed 1 to 6 and leave it for about a minute.
How Do You Clean A Dry Vitamix Container?
Cleaning your dry container feels like a breeze. All you need is a drop of dish soap plus warm water.
Here's how to go about it.
First, pour water inside the container then rinse it thoroughly. Ensure that a greater portion of the residues is poured out.
Make sure to fill your container halfway with warm water with 1 or 2 drops of dish soap then turn on your machine for about 30-60 seconds. This should clean your container.
Once cleaned, rinse then place the container upside down on top of your kitchen counter to air dry.
Note: For deep cleaning, you may need to pour a solution containing white vinegar and water into the container for hours before cleaning.
Can You Use The Vitamix Dry Container For Wet Ingredients?
The answer is a capital YES. Although the container is designed for grinding dry grains, you can as well use it to grind wet ingredients but it won't be as efficient as a wet container.
What Is The Difference Between Vitamix Wet & Dry Blades?
Aside from the fact that both differ in shape and sizes, one of the most notable differences between Vitamix wet and dry blades is that the wet container is designed to blend liquid ingredients (such as smoothies, milkshake etc) why that of the dry blades is specifically designed to grind dry ingredients (such as whole grains, cornmeal, oats etc). Simply put, the wet blades are for blending while the dry blades are for grinding dry ingredients.
Is The Vitamix Dry Container Worth It?
For something that provides you with an easier way to grind grains without having to buy a separate blender but rather, an attachment that doesn't cost much, I think it is worth all the hype and recognition it's currently getting. So investing in a dry grain Vitamix container is a wise decision anyone can make.
My Final Verdict
Truth is, there isn't much left for me to say again especially if you actually took your time to go through this Vitamix Dry Grains Container Review. You'll see that every kitchen indeed needs a blender not just for grinding wet ingredients but also that which can help you grind dry grains as well.
Related Articles You Might Want To See