The versatility of a Vitamix wasn't known until some clever folks started using it for other purposes other than the one it was meant for. For those of you who are new, you may be wondering what a Vitamix is but before I answer that, I would like to provide an answer to the question below.
Can You Grind Meat In A Vitamix? Well, Yes but first, you'll need to dice your meat to a smaller chunk and then use the lowest speed level and gradually work your way through the highest level until your meat is fully minced.
One thing about using Vitamix to ground meat is that it isn't a consistent and reliable way of mincing meat as you may often find fats getting stuck on the blade which is hard to clean up.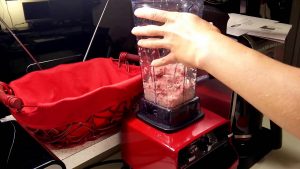 Another thing I would like to point out about using Vitamix to ground meat is that you literally can't put too much meat at once. If you try to do so, it will definitely get stuck and then begins to overheat.
So if you own a Vitamix (especially the 750 series) and you want to use it to mincemeat at home, try grinding the meat in batches, that way, you won't have to stress the motor that much and don't forget to start with the lowest level down to the highest depending on what you want it to do for you.
That being said, let me quickly walk you through how you can ground meat at home using your Vitamix. Shall we? Good.
Read Also: Best Commercial Grade Meat Grinder (Reviews 2020)
Pro Steps To Grinding Meat In A Vitamix
Before you proceed to the step by step instructions on how to grind meat in a Vitamix (such as Vitamix E310 Explorian Blender, Professional-Grade, 48 oz. Container, Black), it's important for you to know this.
Ensure your meat is a bit cold or chilled (that's if you're mincing raw meat. That way, they will come out well-grounded.
Take away every piece of bones from your meat. Remember it's a Vitamix you're using not a meat grinder per se. So ensure to take them off completely so that you won't ruin the blades of your Vitamix in the process.
Now that you've done that, let's proceed with the step by step guide to using a Vitamix for grinding meat.
Step 1
First and foremost, it's important for you to chop your cold meat into one (1) inch cubes before you start grinding. Cutting your meat into this tiny little piece will make it easy to go through your Vitamix.
Step 2
If you want to grind your meat with other species then here's how to go about it. First, add your meat, followed it up with your spices and then add another meat. (Meat >> spices >> meat). If you don't want to add spices, then you can go ahead to ground your meat alone.
Step 3
Start by turning on your Vitamix (without meat inside) to variable speed one first then slowly set it to manual speed 6.
Step 4
Then remove the lid plug at the top of the Vitamix then add your diced meat a few cubes at a time every 10 – 15 seconds.
Step 5
Remember to keep adding your meat a few cubes at a time until you're done grinding them all. If you're grinding plenty of meats, its good that you ground them in batches.
Note: Ensure that your meat isn't more than half of the jar. If they are more than half of the jar then you'll find a hard time grounding your meat so only fill your jar halfway and pour them out once they've gotten to that level. Don't forget to ground them in batches if they're much.
Now that you know just about how to manoeuvre your Vitamix to grind meats, let's quickly look at how you can get them cleaned up.
Trending Today
How To Clean Your Vitamix
When it comes to cleaning Vitamix, a lot of people don't know how to do it to get a deep cleaned Vitamix jar. If you're among those people then you've come to the right place. I'm going to show you the various ways you can actually clean your Vitamix and get them shiny again with different procedures.
Procedure 1: Using Soapy Water
The conventional way to clean your Vitamix is to fill them up with soapy water then let them sit on the machine. Turn on your Vitamix and set it to speed 6. Do this for about 1 minute and your Vitamix should be cleaned. If this didn't work out for you, try the next step.
Procedure 2: Using White Vinegar
As usual, fill your Vitamix with white vinegar, let them sit on the machine and set the speed to the highest. Do this for about a minute and your Vitamix should be well cleaned. Still didn't work for you? Try the next step.
Read Alo: Can Magic Bullet Grind Meat?
Procedure 3: Using Warm Water, Dish Soap And Vinegar
Start by putting some warm water into your Vitamix, add a drop or two of dish soap and then add some little amount of white vinegar. Run it for about 1 minute and see how it goes.
Procedure 4: Deep Clean Using Baking Soda, Tooth Brush And Vinegar
This procedure will help you to deep clean your cloudy container and make them shiny again. Here's how to go about it.
Step 1: Make A Baking Soda Paste
Pour a reasonable amount of baking soda unto a clean bowl then add warm water to it to make a paste
Step 2: Using Tooth Brush
Use your brush (new one preferably) to take little quantity of the baking soda paste then brush the inside of your container. Ensure to brush those stains thoroughly.
Step 3: Soak In Vinegar
Once you're done brushing, its now time to soak the container in vinegar and water (in a ration 50/50) for a couple of hours then try using your baking soda again to finish it up. Your container should be shiny and sparkling by now.
Procedure 5: Using Denture Tablets
This step is especially important for those who don't like scrubbing and doesn't like using vinegar or some sort of dishwashing liquid. Here's what to do. Fill your Vitamix container to the brim then drop some few drops of Denture tablets then leave it overnight.
Note: Don't forget to wipe the container dry with clean clothes in all of the procedures mentioned here after cleaning. That way, your container will remain clean, germ-free and free from odour.
Can You Grind Meat In A Vitamix – FAQ
Can I Shred Chicken In A Vitamix?
Sure, apart from using fork and knives, you can also use your Vitamix to shred chicken (especially chicken breast and thighs) easily but be sure to take out the bones from your chicken.
Can You Shred Meat In A Vitamix?
Vitamix is a multi-purpose blender that is capable of grinding both solid and liquid food. This machine can also grind raw and cooked meat (beef, ham and chicken) and can shred them in a breeze. Just be sure to cut them into one-inch cubes and ensure they're cold or chilled.
Which Is Better Vitamix or Blendtec?
Watch the below video to see how two ladies actually put both to use and which of them came out the winner.
Well, depending on what you want them to do for you, I can't say here that one is better than the other. But if you are looking for versatility in a blender then I would probably consider Vitamix.
How Do You Grind Flour In A Vitamix?
Vitamix comes in two containers. The wet (usually 2 litres) and comes as a standard and dry container. So if you want to grind grains in your Vitamix then you need
Vitamix Dry Grains Container, 32 oz.
This container has a blade that is strong enough to grind grains and is specifically designed for those who wishes to grind all types of grains in their vitamins at home.
Can You Grind Corn In A Vitamix?
It's pretty simple to grind corn in a Vitamix into fresh corn flour for baking. Just be sure the kernels are well dried before grinding.
The best way to dry corn is to sun dry them until the moisture content in them has been completely reduced to the nearest minimum.
When grinding corn in a Vitamix or Blendtec, ensure that the corn fully covers your blade and only grind 2 – 3 cups at a time. You can also grind corn using the dry grain container as well.
How Do You Grind Oats In A Vitamix?
Grinding oats in a Vitamix or any other high powered blender are so easy to achieve but first, ensure that your blender is dried and not wet. Pour in your oats and turn it on. Start with the lowest speed and then to the highest. Again, an easy way to do this is to make use of
Vitamix Dry Grains Container
.
Can You Grind Meat In A Vitamix – Conclusion
If you've gone all the way from the top down to this point then you should know by now how easy it is to use your Vitamix to easily grind your meat at home.
As easy as it may seem, it still wouldn't change the fact that meat grinders still remains the best once it comes to mincing meats but what do you do then when you don't have one?
Of course, is to make use of what you have which in this case a Vitamix. So, guys, that's all you need to know about grinding meat in a Vitamix.
Hope you've learnt a thing or two from this post? If so, kindly do me this last favour by clicking on the SHARE button located beneath this post. Also, if you have any questions regarding this topic, don't hesitate to leave a comment below.